Product Description Generation (Short) Usecase
Background: A client sells cosmetic pouches via Social Media Whatsapp/ Facebook etc. Asked to send me product image, description with keywords
Description As Received from Client
2021 New Fashion Brand PINK Laser Cosmetic Makeup Bag Women Lady Travel Organizer Pouch Storage Bag 3 colour Cosmetic Pouch
Prompts Used For Short Product Description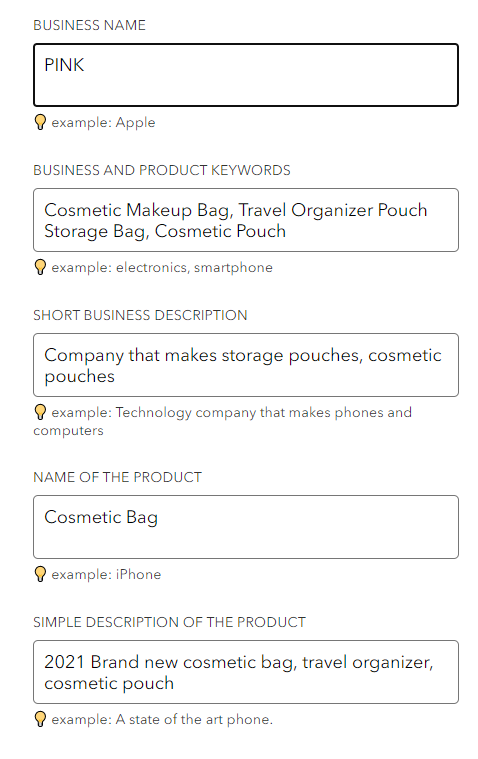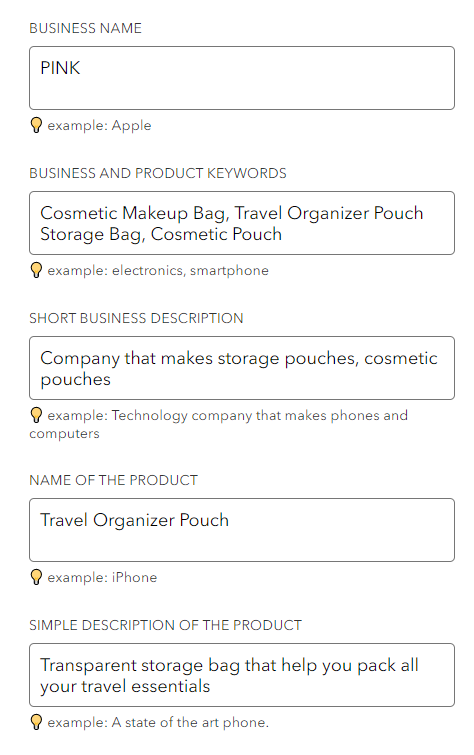 Generated Product Descriptions (Short)
1. This travel accessory offers a place to stash your everyday essentials so they're always close at hand. With a magnetic flap closure, this organizer is made from cotton canvas and printed with a graphic pattern. With a zippered interior and exterior pockets, it also features an adjustable strap and a removable pouch that doubles as a wristlet.
2. This travel bag is perfect for cosmetics, toiletries, accessories and more. The transparent window makes it easy to find what you need, and the fabric keeps your items organized.
3. Pouch is both elegant and durable for storing your cosmetics and keeping them organized.
4. Organize all your beauty essentials with this handy cosmetics bag.
5. Designed to be the last cosmetic bag you'll ever need. The Roomiest Makeup Bag Ever! With room for all your beauty essentials, including a removable, adjustable divider that can be adjusted to accommodate different sized products.
6. This organizer pouch is perfect for your cosmetics. It is lightweight and durable with a zipper closure to keep your cosmetics safe. Keep your makeup organized with this travel pouch.
7. This essential bag is a must-have for the girl on the go. A roomy interior and clever design give you the space you need to keep your makeup, jewelry, travel essentials and more organized.
8. Keep all your beauty gear neatly in place with this handy storage pouch. This ultra-lightweight pouch comes with a detachable zip pouch that holds all of your smaller beauty essentials and a convenient carabiner that makes it perfect for travel.
Product Description with Emoji (Short)
1. This cosmetic bag looks cute, is cute, and it does its job. 
2. 
 Are you a makeup usta? 
 Be prepared for anything with this cosmetic bag 
. You'll be able to store your 
, eyeliners, lipsticks and your 
 business card holders all in one place.
3. You're a party of one 
. This is just for you 
. Get your party on 
with our Cosmetic Bag. This bag features a can't miss watercolor print 
to show off your personal style. It's a great gift 
for anyone who likes to look their best 
, and it also makes a great addition to your own collection
4. Get ready for the count down! The holidays are around the corner! 
 This cosmetic bag is just the right size to hold all of your necessities 
. The perfect gift for the holidays!
5. I want this pouchee to be right by my side. 
 It's the perfect size – not too small and not too big. 
 I'm going to be constantly grabbing for my lovey pouchee because it's got the perfect amount of room for my smudge sticks 
, lipstick 
, mascara, 
, and even my phone. 
6. This adorable Cosmetic Pouch is perfect for storing your makeup 
 and other products you take with you on the go. It is made of high quality nylon material and has a zipper closure. It also has a convenient wrist strap and a hanging loop. The interior is lined with a soft material which prevents the contents from being scratched. Also, it is fashionable and gorgeous! It can be matched with your favorite purse 
 or can be a great gift to your friend. It is a great way to keep your makeup from breaking or spilling!
7. 
So many of us have one of those full-sized cosmetic bags that we carry around wherever we go. We are obsessed with it and want to carry it everywhere. But we also have makeup that we absolutely must take with us. And the full-sized cosmetic bag is too bulky to carry around everywhere we go. So we have to carry a separate purse specifically to carry the makeup around with us.
8. 
 This is the perfect cosmetic pouch to hold all your essentials from lipstick 
 to toothpaste 
 to body lotion 
. You'll be able to find the right product with all the compartments in this pouch. 
Product Description Generation (Long) Usecase
Background: Assume Client, in this case Bestowed Essentials (real company with real product) wishes to sell product on ecommerce Shopping Portal.
Prompts Used for Product Paragraph (Long)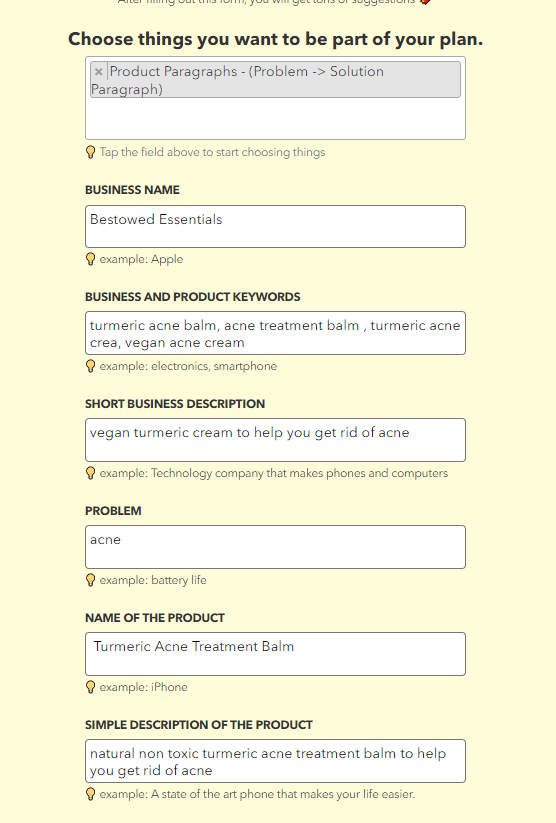 Product Paragraphs – Problem – > Solution (Long)
Output 1
Acne is a skin condition that effects many people, and is caused by an overproduction of sebum combined with clogged pores. It is generally caused by the hormones of teenagers, and can sometimes be caused by the hormones of adults. The Turmeric Acne Treatment Balm by Bestowed Essentials is a 100% vegan, organic, all-natural anti-acne treatment that is formulated without any harsh chemicals or irritants. It is made with organic, non-genetically modified, turmeric root and other healing herbs and oils that promote healthy skin and eliminate acne.
Output 2
Acne is a serious problem that affects an estimated 85% of people between the ages of 12 and 24. While acne is common, it is not inevitable. The cause of acne is not entirely clear, but it is known that it is partly due to genetics and partly due to the environment. The Turmeric Acne Treatment Balm by Bestowed Essentials is a 100% natural skincare product that helps prevent and treat acne by balancing the skin and killing bacteria. It is non-greasy, non-irritating, non-drying, non-comedogenic, gluten-free, and cruelty-free.
Output 3
The modern diet and lifestyle have created a number of different skin problems, one of which is acne. Acne is a condition that results in the skin having too much sebum, which is a natural skin lubricant. When you have too much sebum, it clogs your pores and causes acne. The Turmeric Acne Treatment Balm by Bestowed Essentials is a natural treatment for acne. The ingredients in the balm include organic extra virgin coconut oil, organic extra virgin olive oil, and organic extra virgin argan oil, as well as anti-inflammatories, antioxidants, and anti-bacterial ingredients. These ingredients work together to address the root causes of acne and prevent future outbreaks.
Product Paragraphs – How to Use It (Long)
Output 1
Using our acne treatment balm is super easy. All you have to do is rub it on your acne. In fact, you can use it anywhere on your skin. Because it's made with all organic products, you don't have to worry about many of the harmful side-effects commonly associated with genetically modified turmeric creams.
Output 2
When you are ready to use our natural acne treatment, all you have to do is apply the product to your skin. The two main ingredients in our natural acne treatment are organic turmeric and organic aloe. While they don't always show up in the same sentence, they are actually a perfect match. The organic turmeric is a powerful antioxidant, and the organic aloe is a natural moisturizer.
Output 3
Apply the acne treatment balm to your skin daily. It's best to apply the acne treatment balm first thing in the morning and before going to bed. You may also apply the acne treatment balm during the day if needed. You can even apply the acne treatment balm to your children and they should start to see results in about three to four days.
Few blank product descriptions.
I tried adding few brand name but it doesn't show in product description. Brands are local and not well known, but still they don't seem to appear in product description.
Longer form of product description. This is good for short description, but would love to get 300 word description if possible.
Negative Keywords for product description like negative keywords for my product is Foldable, Magnetic Closure as my product is not foldable nor has magnetic closure.
Before – After for Products Descriptions.
My Feedback and Suggestions to All
More better the prompts you give, more better are the description generated.