You know how they say that a picture is worth a thousand words. That's not always true. We can't let the importance of words slip our minds. Whether it's what we say or what we write, we cannot forget the power that our words have. Text is also highly complex: even a single line of text can imply many different meanings and be interpreted in many ways.
In an age where there is an inexhaustible supply of information, it is also necessary to quickly summarize key pieces of text to make it easier to find and understand information. Can we use a tool for that? Oh, it's Inksprout! Look! In the sky!
Let's take a look at Inksprout, a social media sharing tool that can help you succeed online. It automates the process of creating captions for your links which gives the reader a clear, objective picture of the original text.
Who is at the helm of Inksprout?
Inksprout was founded in October 2020 by Masatoshi Nishimura to make social media link sharing easy. Masatoshi needed something to help him with his social media marketing endeavors and that's when a light bulb went off in his head. It started out as a Chrome extension, but now it comes with its own dashboard offering more flexibility.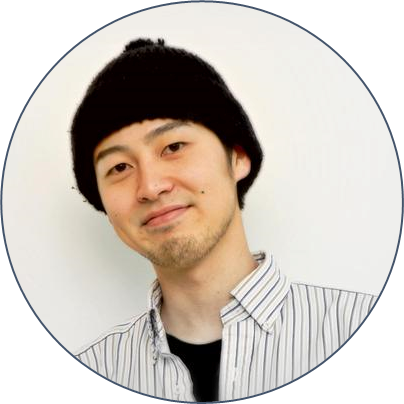 As a Twitter user Masatoshi discovered it to be quite time-consuming to come up with a caption for every article that he shared. That is where he decided to make use of the latest AI-technology to create a writing assistant. Sugar, Spice, and a bit of Artificial Intelligence. Thus was born Inksprout.
How does Inksprout work and what makes it so useful?
Consuming massive amounts of content at a rapid pace and processing that content to extract meaningful information is challenging. Taking that large volume of text and distilling it down to the bare bones for better understanding is where Inksprout comes into play. It provides the potential reader with enough content to decide whether they need to read more or not.
Let's take a look at all the features that Inksprout offers for a better understanding of how it works and why it's so useful.
Social Media Link Sharing
Sharing links is huge in Social Media; so big it's often referred to as the currency of Social Media. To make sharing easier, Inksprout automatically populates your social media post with a summary when you share links.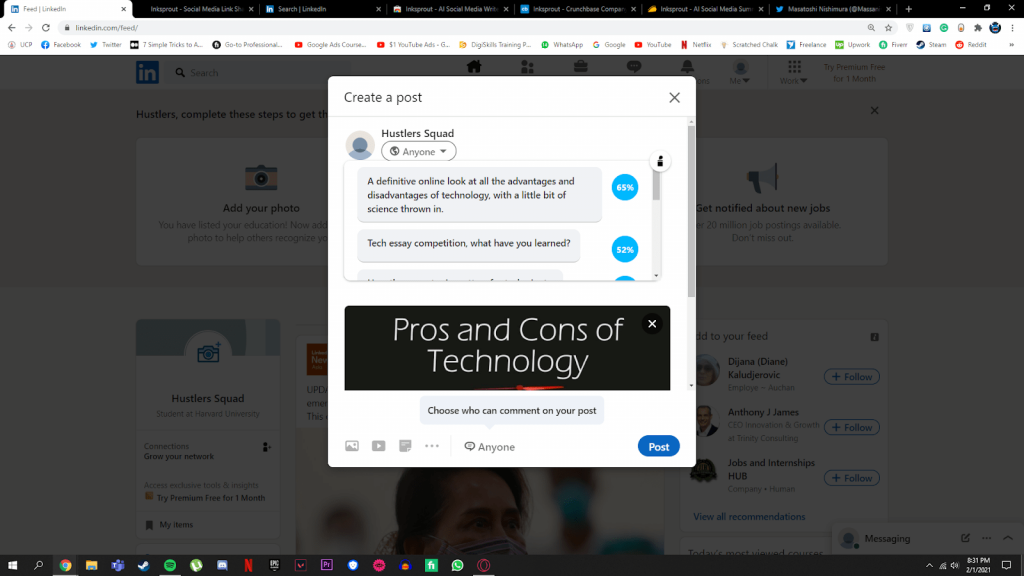 Your caption also serves as a "call to action' element, encouraging readers to click on the link to read more. However, coming up with captivating captions that entice readers can be a chore. That is where Inksprout's chrome extension takes the burden off your shoulders.
It's hard to put all the key information from an article or blog post into one short paragraph. The summary is essential because readers need to be hooked, otherwise they won't click on the link and continue reading your blog post or article. Thankfully, we now have a tool that does exactly that.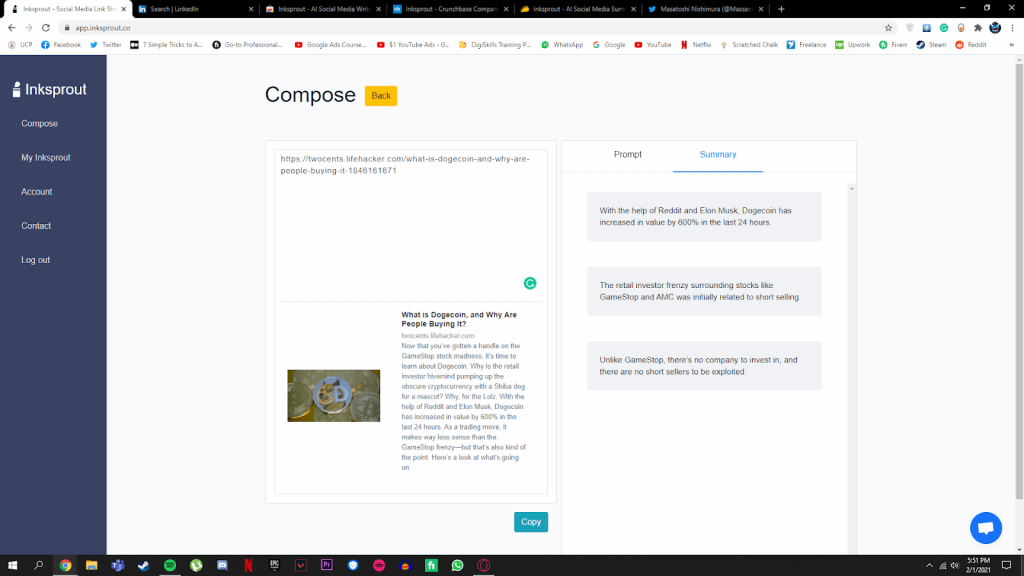 What began as a simple browser extension has now become a full-fledged SaaS tool with its web dashboard. All you have to do is just paste your link, wait a moment while it fetches the suggestions, and then you can just copy it and use it wherever you want.
Everyone knows that the hardest part of writing is the beginning. InkSprout allows you to generate writing prompts that you can use as an opening line for your next article or blog post.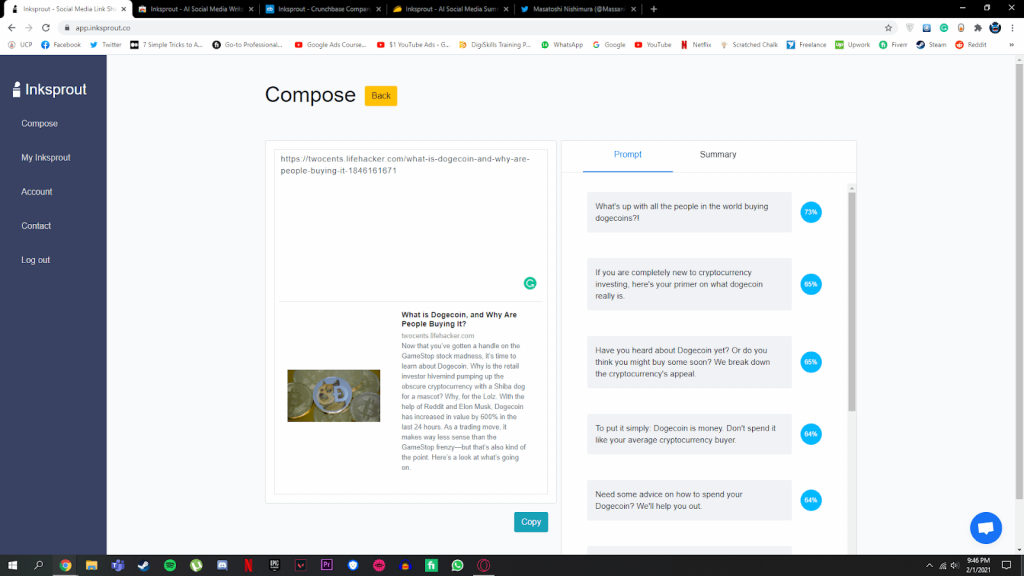 Whenever you paste the link, you'll find several prompts that can give you a good place to start if you're out of ideas. These prompts are based on the link that you put in, and they will help you get going.
Multi-platform Integration
Inksprout allows you to generate high-quality summaries and prompts at high speed which you can post on several social networks such as Twitter, Linkedin, and Facebook.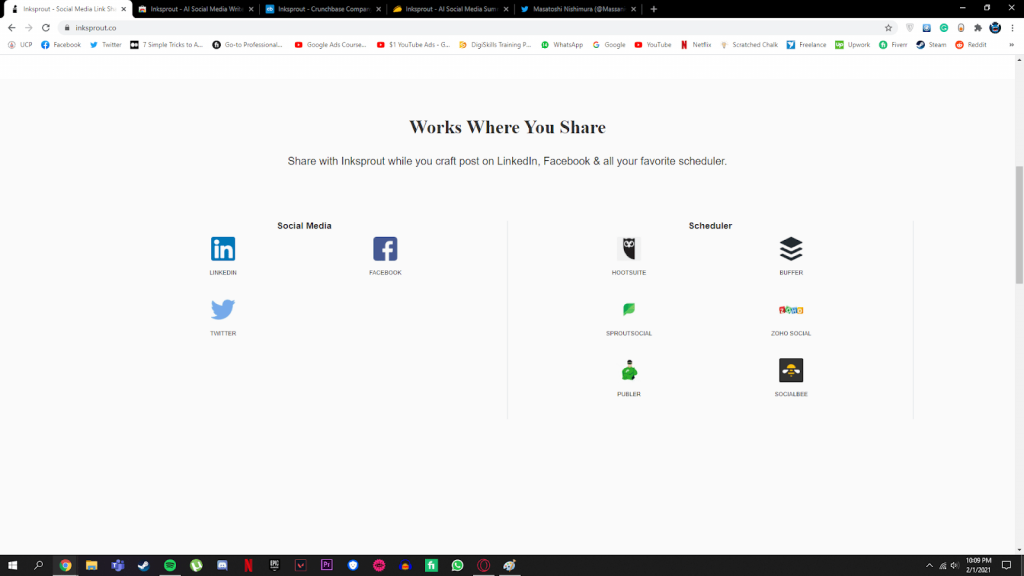 Inksprout also works with some popular social media management platforms such as SocialBee, Publer, Buffer, Hootsuite, SproutSocial, and Zoho Special. All you need to do is paste the link into a website that it supports, and it will automatically start generating relevant content.
Pros and Cons of Inksprout
Inksprout is a great tool that makes your life easier by automatically generating summaries for the links you're sharing on social media and saving you all the time in the world. But every rainbow has its rain, so,
Before we jump to any conclusion, let's weigh the pros and cons of Inksprout.
Inksprout makes sharing your blog post easier, as it sums up the content within seconds while you're sharing the post.
Inksprout does something within seconds that would take you hours to do by hand, thereby boosting productivity.
By combining natural learning and artificial intelligence, Inksprout produces a concise and precise summary of voluminous texts without losing the overall meaning.
By automating social media marketing, Inksprout allows you to do other tasks, thereby increasing profitability.
Inksprout's prompts generator makes it easy to come up with interesting, unique, and engaging ideas that you can use in your next article.
One downside is that it does not guarantee the same quality results as it would if the content were written by humans.
AI lacks creativity and the ability to think out-of-the-box.
To get your blog post or article out there you must share it. Although, coming up with a caption for every post can be tedious and time-consuming. Inksprout can save you that time. 
We have laid out all the pros of making Inksprout a part of your social media marketing strategy, and they clearly outweigh all the cons.
Inksprout's Onboarding Process
Navigating through the Inksprout homepage is easy and the process of registering is rather straightforward. Inksprout also offers a free trial account, with everything you need to try it out. This gives you a chance to familiarize yourself with the tool and its features. If you decide to use it full time, you can sign up for a paid plan.
To get started, you have to visit Inksprout's homepage and click on "Start for free" which will take you to the next step.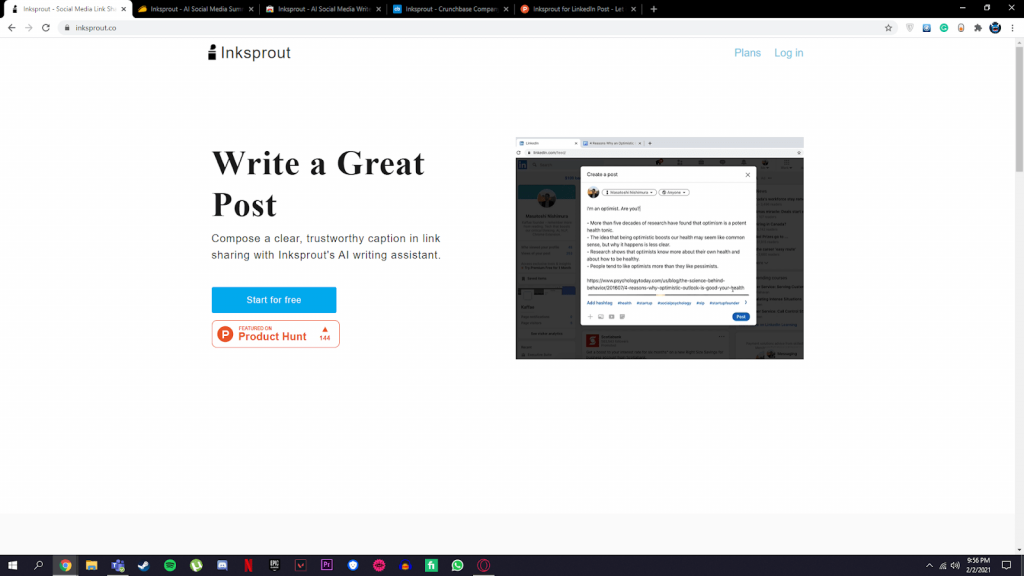 You can sign-up by entering your details such as Full Name, Email Address, and Password. Alternatively, you can also sign up using Facebook, Linkedin, or Google. Registration is simple, regardless of how you choose to sign-up.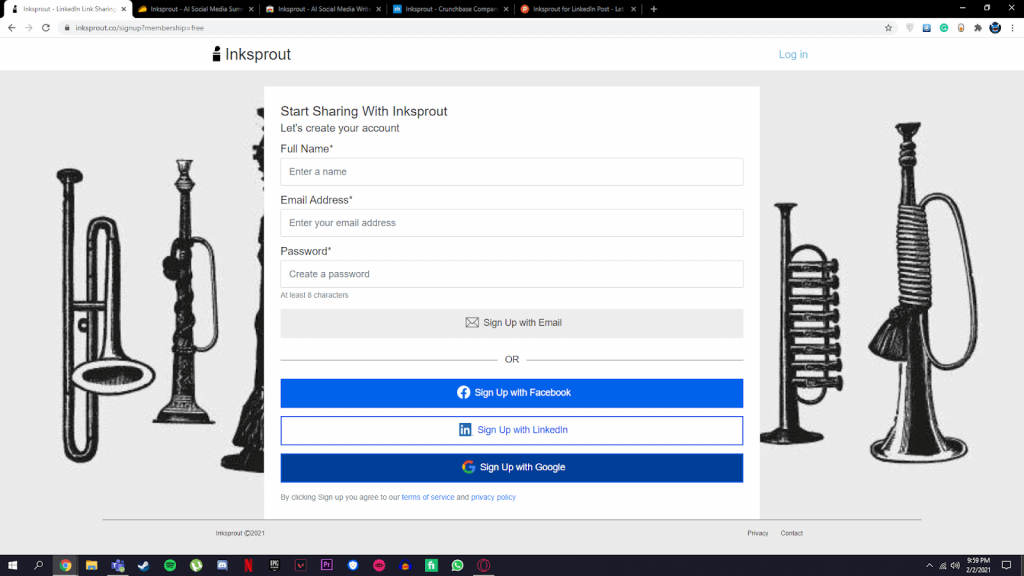 And you're done. Now you're taken to the web-interface of this app where you can just simply paste the link of your article or blog post and let Inksprout do its magic. The results will be shown on the right side, from where you can see the Prompts and Summaries that Inksprout has generated relevant to the link that you pasted.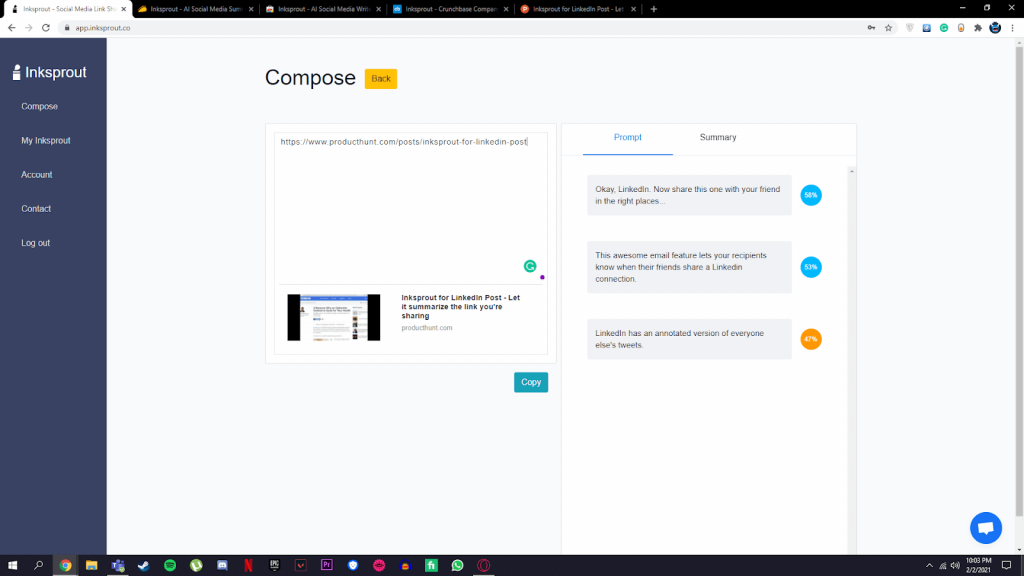 Another way through which you can savor all of Inksprout's goodness is by simply installing its Google Chrome extension. You can install the extension by going to Chrome's web store and clicking the "Add To Chrome" button. The process hardly takes a minute, and you're good to go.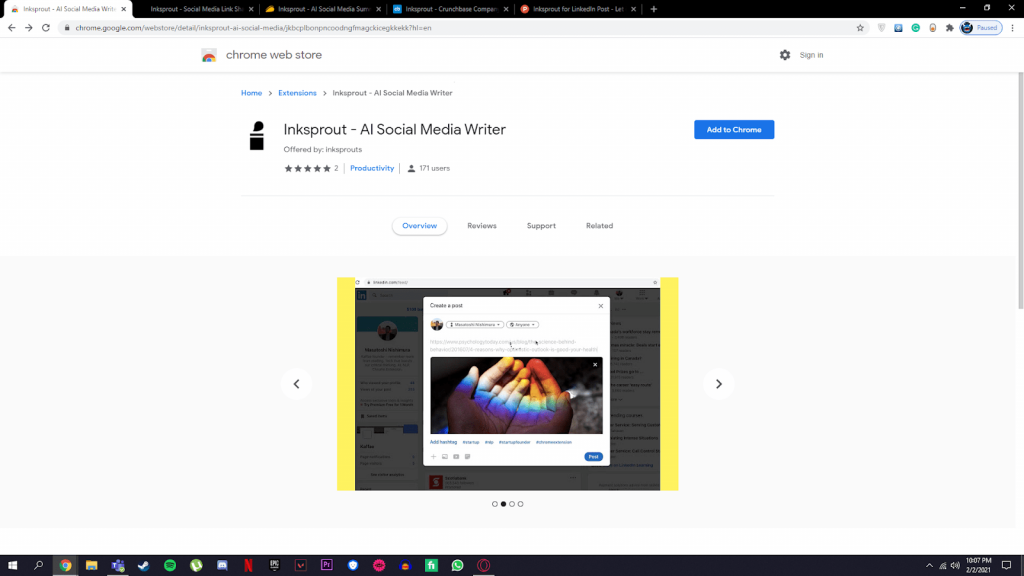 The chrome extension does not require any type of registration and works smoothly. Once it's set up, this tool is so simple that you can forget about it, because it just works. However you wish to proceed with it, the automation that Inksprout brings to your workflow is truly a godsend.
Inksprout's Pricing Structure
Inksprout offers a couple of different pricing plans, catering both to the budget-conscious as well as those who have some extra cash to spend. It also features a trial version, but the real fun begins after you upgrade to the paid version.
Inksprout has everyone covered with their different paid plans to make sure that everyone gets the chance to benefit from their tool.
In addition to the free plan, there is a Starter and a Pro plan. The starter plan is the budget-friendly way of getting rid of the watermark, while the other features remain the same as the Free plan. The Pro plan provides you with the most freedom at only $12.99 per month as it gives you the ability to generate over 30 captions a day, with up to 500 in a month.
The Pro plan provides you with the best value for your money if you're a professional who is looking to grow a brand, but the other plans will make-do if you're a beginner or just a hobbyist.
Captions are not just eye-candy; they can help boost engagement, generate more clicks, and even result in more sales. Investing in something that helps automate your caption-writing process, and in turn, boosts engagement and generates traffic, is a no-brainer.
Inksprout is a must-have tool to include in your arsenal of social media marketing tools, not only will it provide you with good quality content, but it will also take some of the burden off your shoulders so that you can focus on other things.