Ever had a moment where you're just brainstorming while staring at your screen, trying to come up with a catchy headline or a good marketing copy for your product, blog, or email but nothing seems to be crossing your mind. Wouldn't it be great if we could just avoid these thought showers and let somebody else do our 'dirty' work for us? Well, then look no further.
Effective copywriting can make the difference when it comes to motivating, encouraging, convincing, and eventually driving your audience to engage with your business. While good content helps in establishing trust and connection with your target audience, what sets you apart from your competitors is good copy-writing. 
A good copy helps in creating a positive impression and can make or break the entire marketing strategy of a digital entity. Effective copywriting is a must-have for all kinds of businesses if they want to improve their relationship with their visitors. 
If only things were that simple! Well, now they are. This is where Headlime comes into play. Headlime is an AI-powered copy generator that makes creating effective marketing copy for your products & businesses easy. Headlime turns out to be the perfect solution to all of your marketing copy related complications.
With over 1700+ per-made templates and 20+ categories, Headlime is by far the best copywriting tool out there in the market. Writing an effective and compelling marketing copy using Headlime is a piece of cake, you just have to select one of the thousands of available templates, fill in the tiny details and voila; your marketing copy is ready. 
You can get access to hundreds and hundreds of headlines with high conversion rates, by simply answering a few basic questions. It just doesn't get any better than this. Without any further delay, let's dive into the world of Headlime.
Who is at the Helm of Headlime
Headlime was founded in 2020 by Danny Postma which started as a Google Spreadsheet that Danny used for his projects. Danny was becoming increasingly exhausted of the days where he had to spend his time staring at the screen trying to come up with the perfect headline that would attract his potential audience. After spending hours and shedding blood, sweat, and tears while brainstorming and researching, the headlines and marketing copy in this tool were added.
The new copy and headlines were tested in different marketing areas of the clients and mind-blowing results such as double conversion rates were achieved initially. The news of an effective copywriting tool that writes marketing copy within minutes spread like wildfire across the town and many of their co-workers decided to hop on the bandwagon. 
They tested some of the marketing copy and saw some very convincing results. This success was very inspiring and the team decided to make this tool publicly available for everyone to benefit from.
Danny Postma, The Founder of Headlime
Danny Postma is a heavy-weight entrepreneur with numerous achievements under his belt. He is from The Netherlands, originally. He is a conversion rate specialist, full-stack developer, and conversion designer, currently operating from Bali, Indonesia. He is a founder of highly successful start-ups such as Landingfolio, Inspireframe, and Headlime.
Tyler Rozema, The Copywriter
Tyler is a marketing specialist from The Netherlands, currently working as the copywriter at Headlime with experience in conversion rate optimization, website analysis, and online marketing. Tyler is the brains behind the brilliant copywriting extravaganza that Headlime is famous for and is also responsible for all the out-of-the-box thinking and creative activism at the company.
Both Danny and Tyler are currently spearheading the market with their effective copywriting tool and are working very closely with their ever-growing customer base to bring them the features that they require. Due to their assiduous attention, unflagging enthusiasm, and backbreaking work, Headlime has grown quickly into the tool that it is today.
How does Headlime work & what makes it so useful?
As we have taken a look at the importance of having an effective marketing copy for your businesses and how Headlime expediates and simplifies the entire process, now let's take a look at how this wondrous creation performs its magic
Firstly, let's take a look at the arsenal of useful features and functions that Headlime offers. Following is the list of all the marketing and copywriting solutions that Headlime offers;
Headlime's AI-Powered copywriter is an elegant solution to all your copywriting problems. It is one of the smartest and the most sophisticated marketing copy generators on the web which employs the use of advanced artificial intelligence techniques to write you the best marketing copy.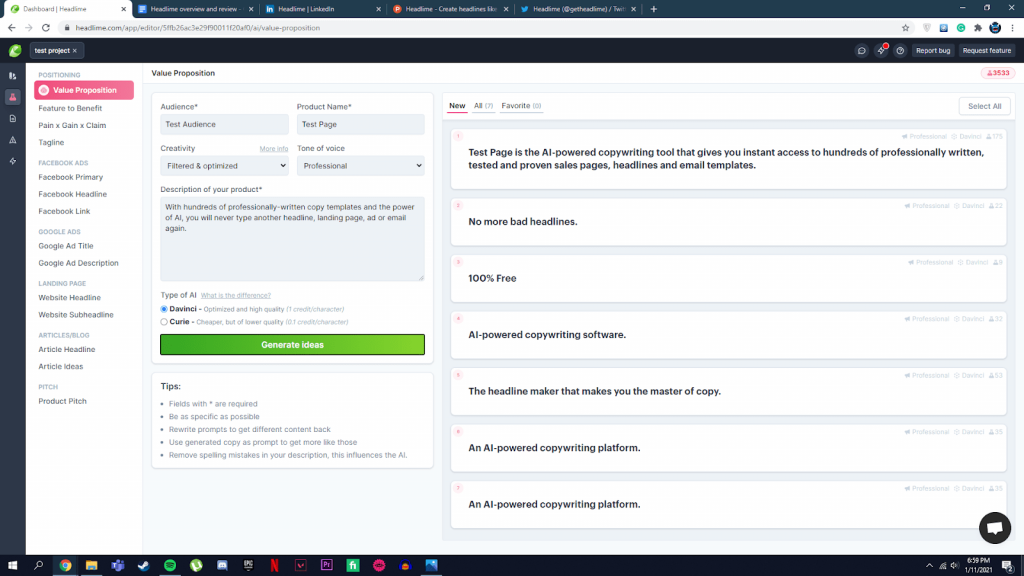 You can generate your perfect copy with just a prompt of 100 characters and then let Headlime do its magic by taking what you've written and using the latest GPT-3 Artificial intelligence module to convert it into the best possible version of itself. 
The Use of Headlime's AI-Powered Copywriter rids you of terrible or unappealing copy as this copywriting tool writes unique and resonating content for your business, website, or product that attracts the audience and keeps them engaged for longer periods.
Now give your overworked, expensive and good for nothing copywriter a break, and use this tool which has the capability of turning anyone into a professional copywriter.
AI-Powered Landing Page Builder
Landing pages are the real conversation-starters and considered to be an indispensable part of the marketing strategy of a business. Landing pages are the heart and soul of the marketing effort. However, writing, designing, or coding an effective and compelling landing page that speaks with the audience can be an arduous task. Well, that is not the case with Headlime's AI-Powered Landing Page Builder.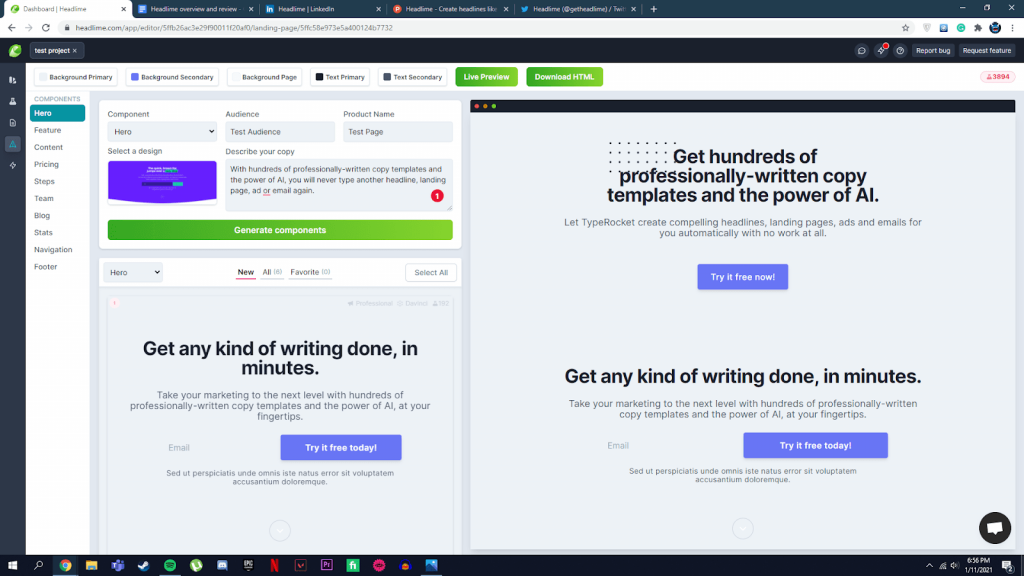 Say goodbye to manually designing and creating landing pages with Headlime's AI-powered Landing page builder. Creating an effective landing page is a cakewalk when it comes to using Headlime's AI-Powered page builder, it can be achieved in just three easy steps within minutes. Headlime's AI writes engaging content and then converts it into an HTML template.
Other amazing features of this page builder include hundreds of professionally designed mobile-responsive templates with a wide palette of color schemes and fonts. The easy-to-use editor features a drag and drop environment with a wide range of elements to choose from such as headers, footers, forms, and much much more. 
The importance of having a good marketing copy just cannot be emphasized enough. It drives profitability and helps you achieve your business' goals by clearly and concisely describing to your audience exactly what it is that your business does.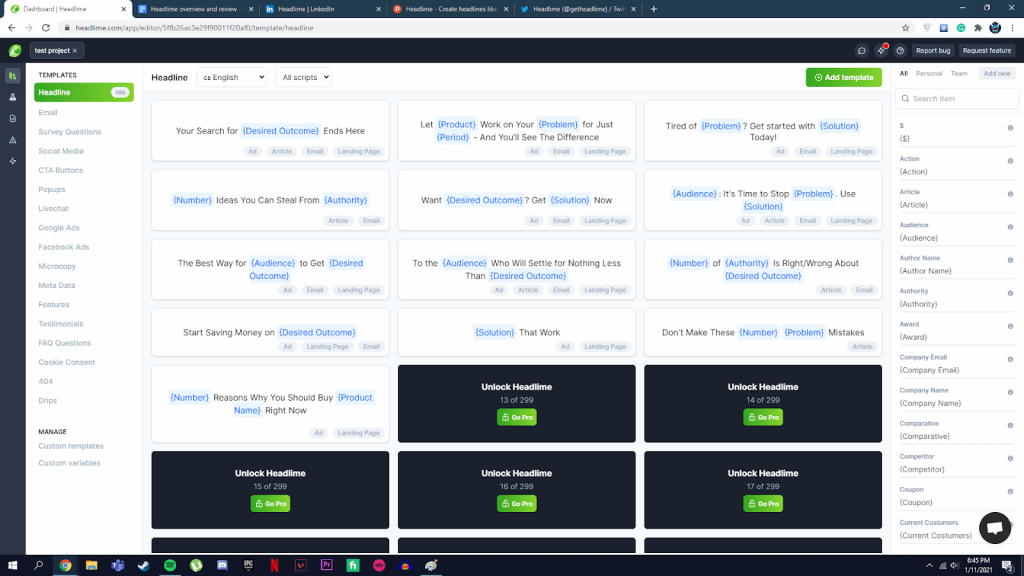 With thousands of pre-made professional copy templates to choose from, Headlime's marketing copy generator makes this process seem like a walk in the park compared to the traditional methods of copywriting. The ever-growing database of marketing copy provides you the ease that you need to instantly create engaging marketing copy for your business, products, services, etc. 
The simple process includes writing your variables in the text editor and then simply customizing the marketing copy to best suit your needs within a matter of seconds. It also features a personal database where you can store your marketing copy and access it anywhere, anytime you need.
Wasting your precious time creating documents can harm the entirety of your business and disrupt the workflow by wasting valuable resources. Headlime's automated document generator brings several clear and direct benefits to the table that can help you save money, time, and make the process of document generation more efficient and error-free. The reusable templates can be tailored to provide you with the perfect copy of the document within seconds.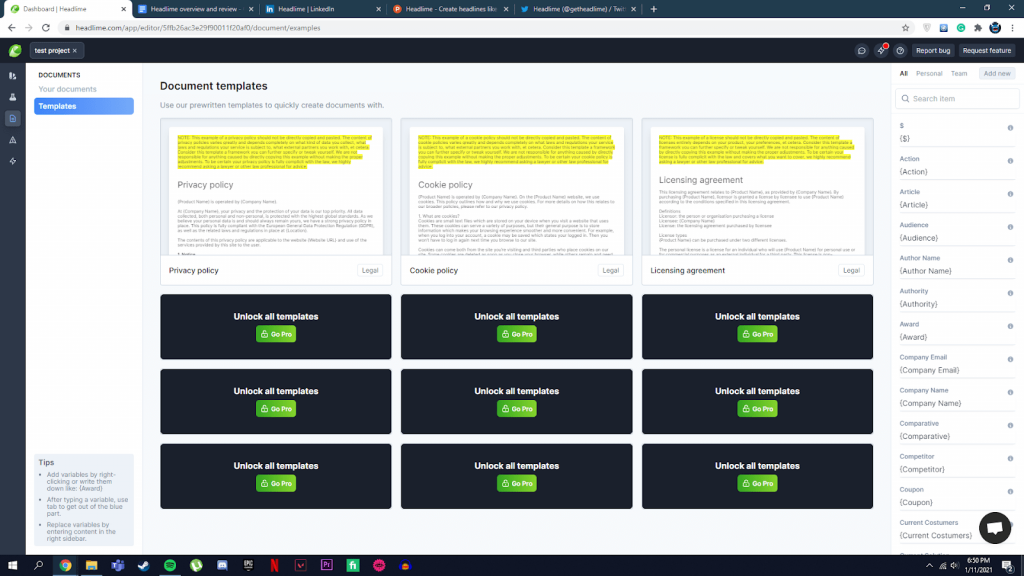 Using an automated generator helps in achieving better data accuracy as it removes the prospect of human error. Generating different versions of the same document and saving the hours that would normally be spent creating these documents manually is one of the many great things that Headlime's document generator offer.
Inspiration is a crucial element for success in almost every field of life. As a copywriter, you need to be able to create the type of stuff that people can connect with, and doing that requires being immersed in what's going on in the world and evoking inspiration from that.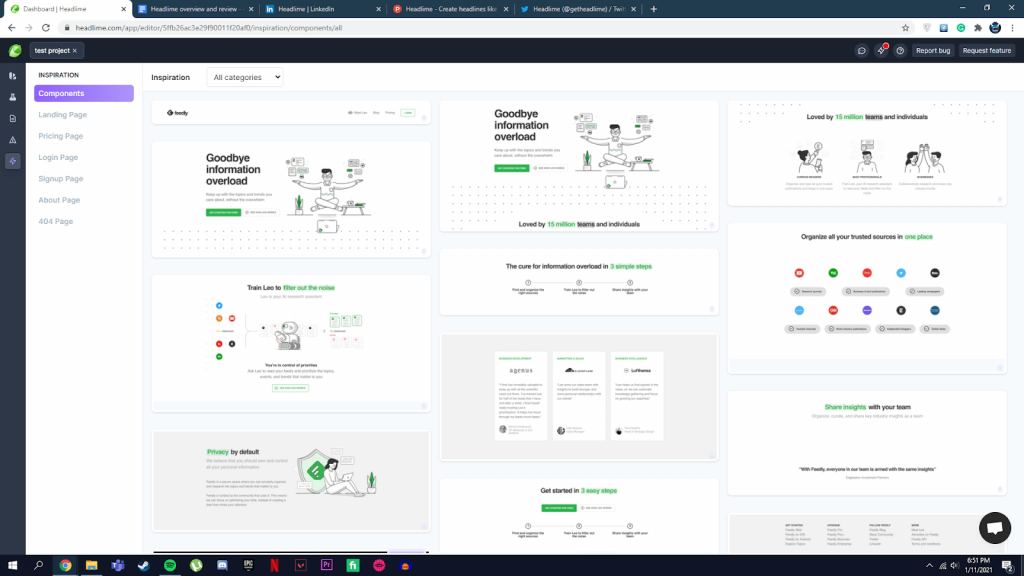 Unlike the marketing copy generator, the inspiration corner is a little different from the other categories. The copy inspiration corner showcases a wide collection of designs, content, and styles to gain inspiration from, and then that inspiration can be used to create the perfect marking copy for yourself. 
It features thousands of real-life examples from the best of the best copywriters across the world. It functions as a database of the most common elements and user-interface patterns used across the web which you can access to gain inspiration from and create the best engaging experience for your users
Working together as a team and sharing a common goal means that every individual can contribute to the project in his best possible way. Working on Headlime together as a team means that the project can benefit from multiple creative aspects, perspectives, and experiences of the individual team members all at the same time.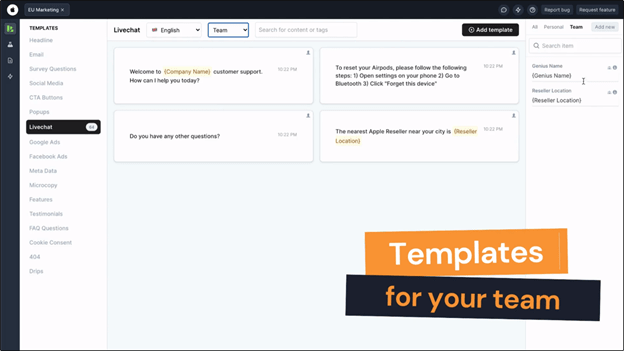 A team on Headlime consists of different individual users and these users can create projects, templates, and variables that all the other team members can see and use. Using Headlime as a team member is pretty much the same as using Headlime individually. The only difference is that all the other team members can view the edits an individual has made and then work further with them. The ability to create teams is an exclusive feature of the agency plan.
Integration of .csv files
One of the best features that Headlime offers is the ability to load a .csv file with information about the variables on the dashboard and Headlime will automatically use the variables and data from the .csv file to automatically generate different types of matching projects and documents. 
Headlime uses this simply written .csv file containing data to easily generate matching documents or projects providing efficiency ease-of-access.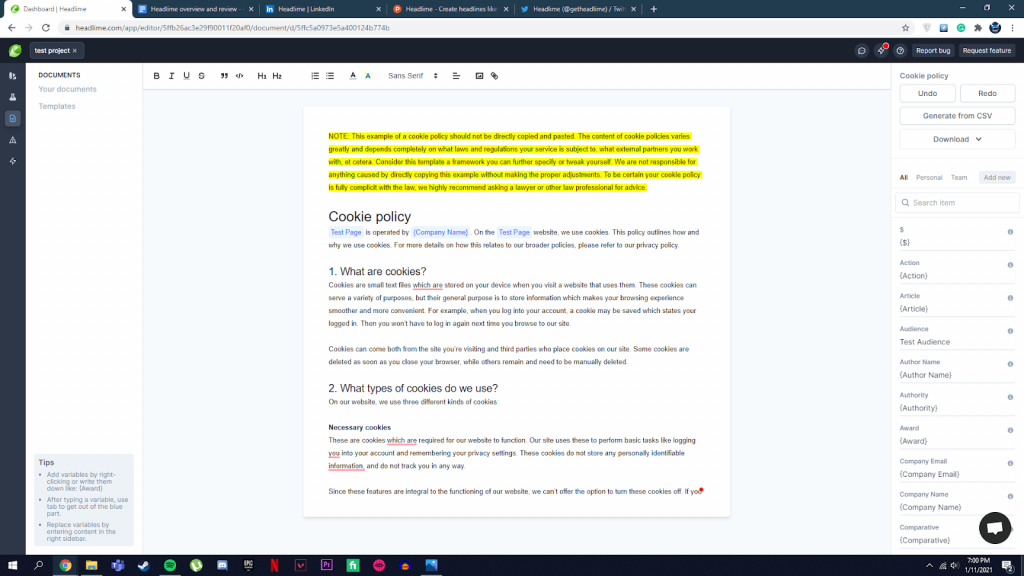 Once the .csv file is created, generating documents using it is the easiest thing to do. After selecting the type of document that is required, all you have to do is upload the .csv file using the button on the top right side that says "Generate from CSV". All it takes is a moment and you're presented with your finished copy of the document. It's truly magical.
Gone are the days where you needed different tools and resources to perform different marketing-related tasks. Headlime features a versatile dashboard for its users which guarantees the best user experience as it was designed keeping the customers' needs and ease in mind.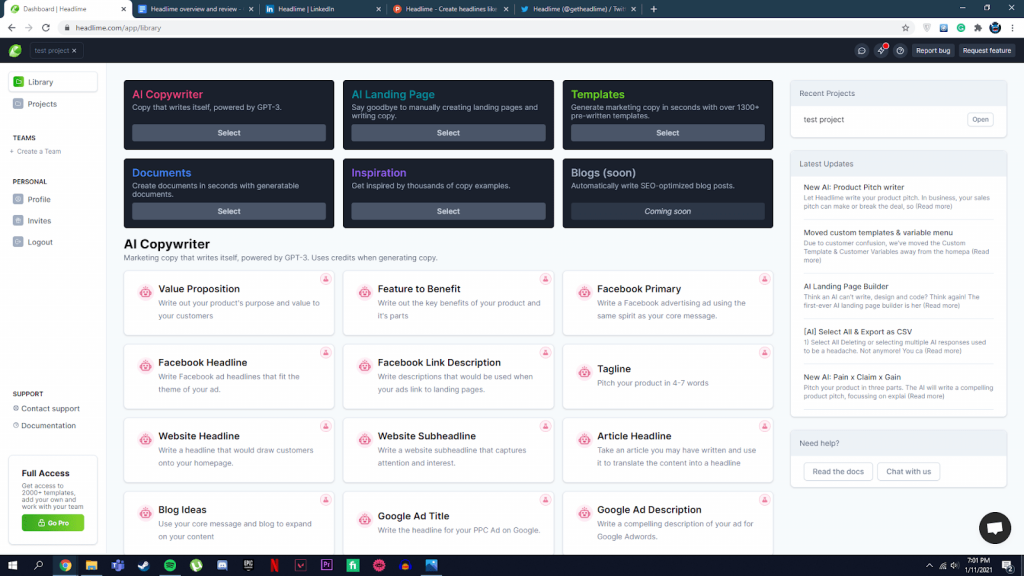 Headlime's dashboard brings all the sharp tools under one shed and allows you to check out all the different features with the click of a single button. This simple, easy-to-use, and pleasing to look at user interface provides functionality and aesthetics all under one roof.
Pros and Cons of Headlime
Headlime has become an extremely useful tool when it comes to the realm of marketing. However, there is nothing in this world that is perfect, and everything in this world has its pros and cons. Now that we have taken a comprehensive look at what Headlime is capable of, let us take a look at all the advantages and limitations that Headlime offers;
Less time and resources are spent on writing copy.
Single outlet for managing and storing all your marketing copy needs.
Easy to collaborate with the entire team and manage your marketing copy in one place.
Hassle-free access to quality content within seconds with the push of a button.
Eliminates the prospect of human-error providing perfect content without spelling mistakes or grammatical errors.
Stress-free web optimization with attractive landing pages and headlines.
Improves the quality of your writing and writing strategy with compelling headlines and persuasive marketing copy.
Thousands of professionally-built templates to use or gain inspiration from.
Double your conversation rates with Headlime's modishly crafted headlines and marketing copy.
Timely updates provide the latest templates, features, and functions regularly.
Artificial Intelligence has its limitations such as it lacks out of the box thinking.
An AI-powered copywriter has no creativity or emotions as compared to a traditional copywriter which can sometimes reflect in the work.
As we can see above that the pros of Headlime far outweigh the cons, it is the perfect choice for all kinds of businesses if they want to sell. The fact that Headlime is being trusted and used by over 800+ companies and comes in over 11 languages, proves that it is the first choice for all kinds of businesses in driving profitability and achieving their business' goals.
Headlime has been around for a few months only but its popularity is already above the charts as everybody in the market considers it a viable tool for improving their marketing strategy.
Headlime Onboarding Process
I'm sure after all that sweet-talk, you're just as excited to get on board the bandwagon of Headlime and make use of all of its mighty prowess in crafting the perfect content for your business that will attract your target audience and keep them engaged for a long time.
Now let's take a look at how we can get started on Headlime. The process is rather simple, firstly you would have to visit the homepage of Headlime which showcases a very sleek and easy-on-the-eye interface with accents of green and black.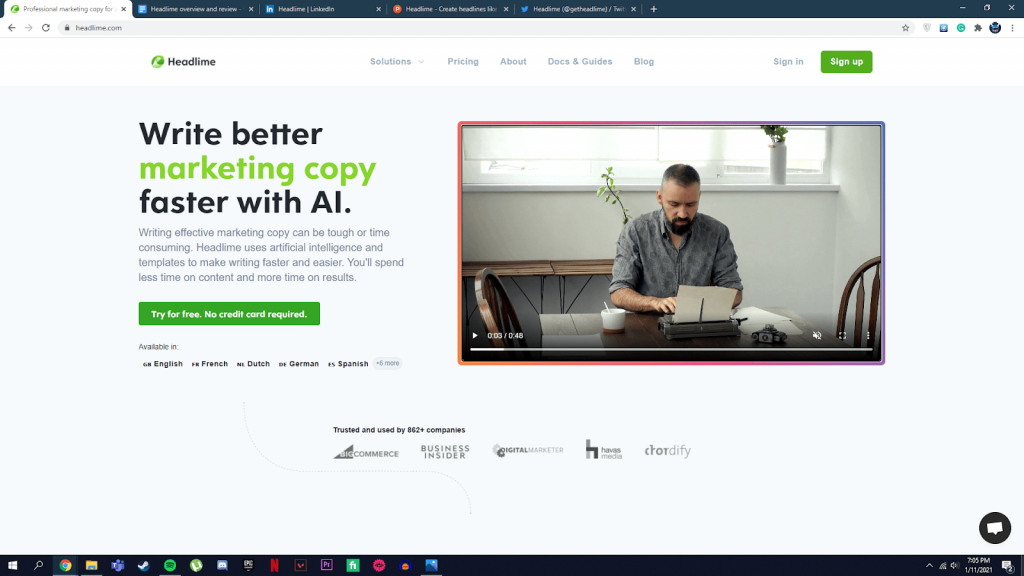 The homepage of Headlime is precisely balanced and features just the right amount of information in efforts to make the visitor feel at home. Now to get started we have to click on the green button that says "Try for free. No credit card required." Headlime offers a free trial account for people who want to try Headlime out before buying. After clicking on the Try for free button, we're greeted with this elegant signup form that we have to fill to try Headlime out.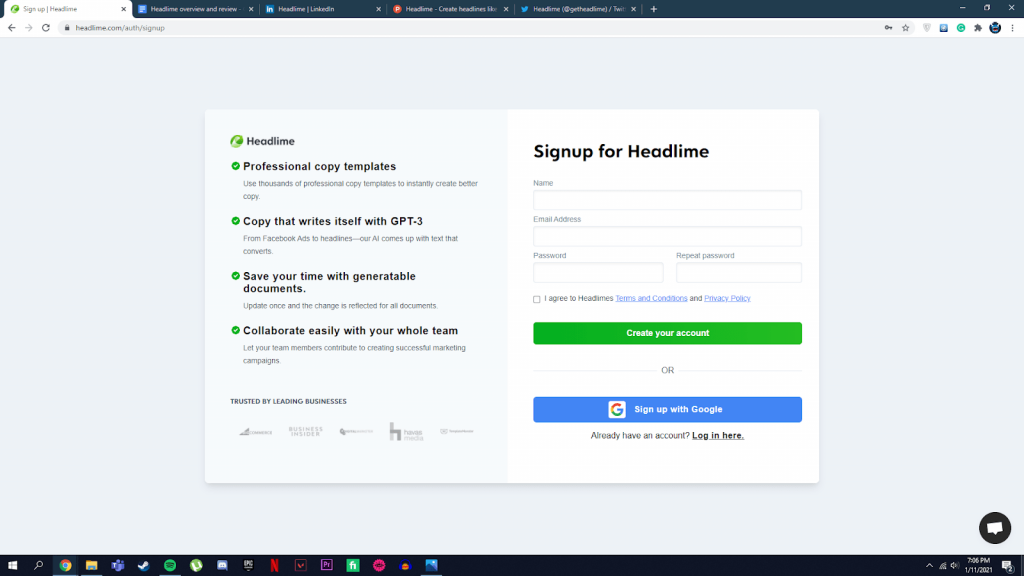 The sign-up form is very simple and requires only a few necessary details. To get started, you have to enter your name, email address, password, and then click on the check box to agree with the terms and conditions. Alternatively, you can also sign up using a Google account. After filling in the details and clicking on create your account, we move on to the next page.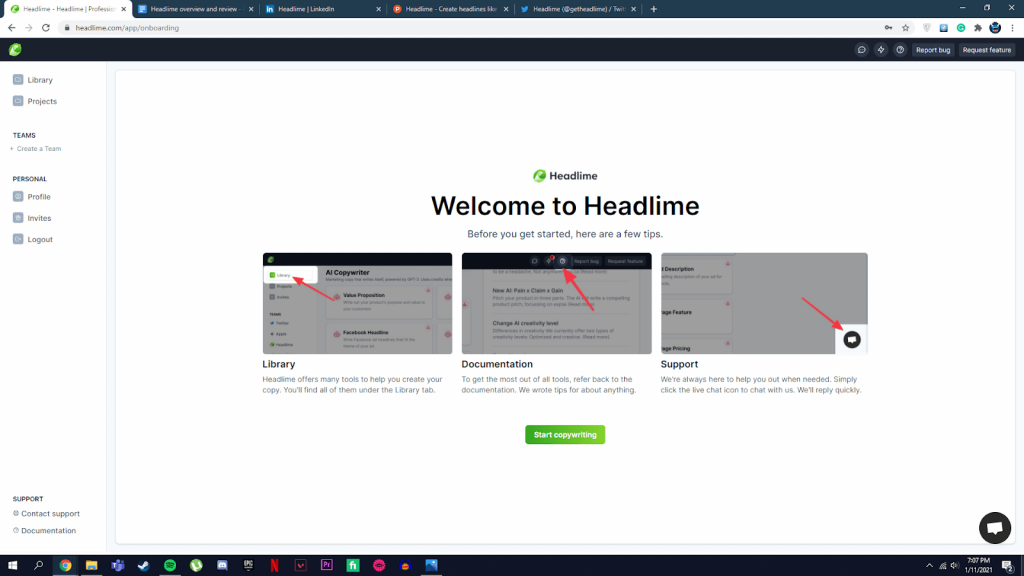 We now enter the Dashboard and are greeted with a welcome page that says "Welcome To Headlime" and it also shows a few tips on how to get started. On your right, you can see a taskbar that contains options such as Library, Projects, Profile, Invites, Logout, etc. 
On the top right corner, we can see the much-needed "Report Bug" and "Request Feature" buttons. Furthermore, to get started, we have to click on the button in the middle of the page that says "Start Copywriting" which will take us to the main dashboard.
We now arrive at the customer dashboard where we can manage all our projects and access all the tools and features that Headlime offers. The dashboard features a sleek and easy-to-use design with all the necessary information and menus to access the tools.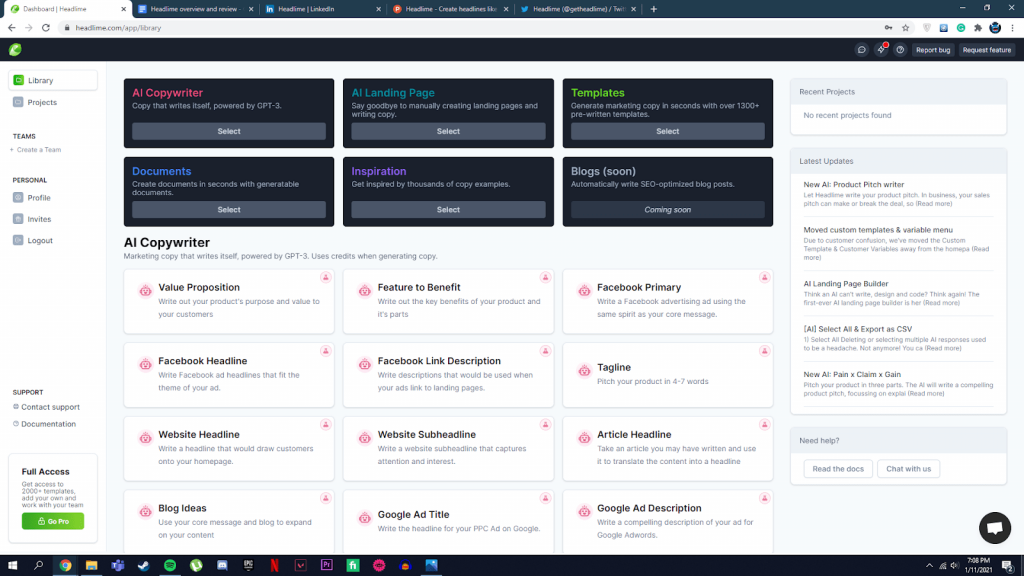 On the front, we can see 6 black segments in the white background each leading to one of the six tools that Headlime offers. We can access the AI Copywriter, AI Landing Page Builder, Templates, Documents, Inspiration Corner, and Blogs which are currently not available.
On the right-hand side, we can see a bulletin where we can see all the latest news and updates from the Headlime management, and below that, we can see the help corner from where we can either read the documentation or chat with the customer support if we need any kind of help.
As we scroll down the Dashboard, we can see the detailed list of features and functions that Headlime can perform. Upon scrolling down, we can see all the functionality that comes with the AI Copywriter tool from Headlime.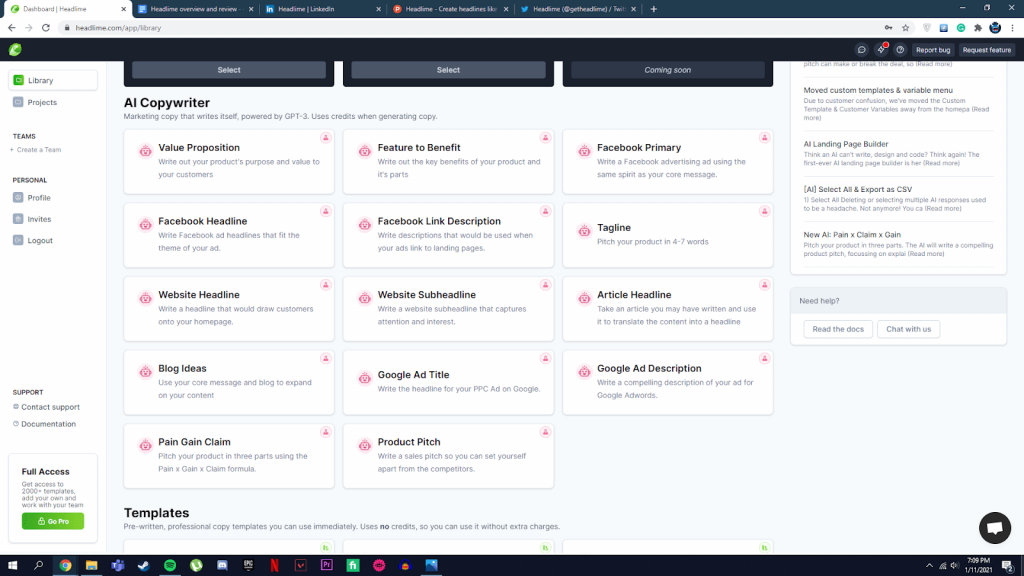 Using the AI Copywriter, you can write copy for value proposition, features, Facebook primary, taglines, Facebook headlines, website headlines or sub-headlines, article headlines, blog ideas, product pitch, and many more.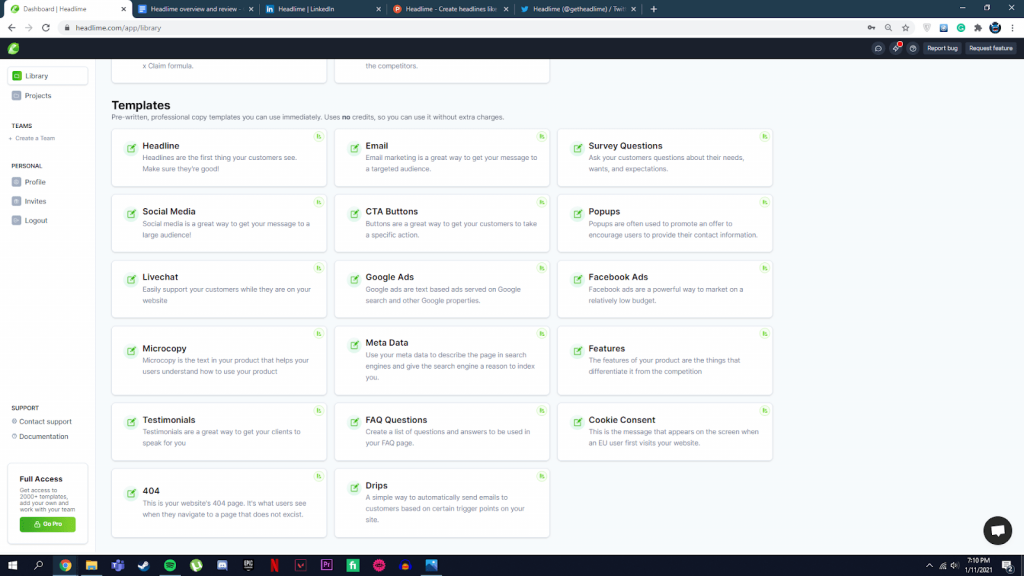 After scrolling down a little more, we can see the Templates Corner from where we can access thousands and thousands of professional-built templates for Headlines, Emails, Survey Questions, Social Media, Pop Ups, Google Ads, Livechat, Facebook Ads, Features, Meta Data, Testimonials, FAQ Questions, and many more.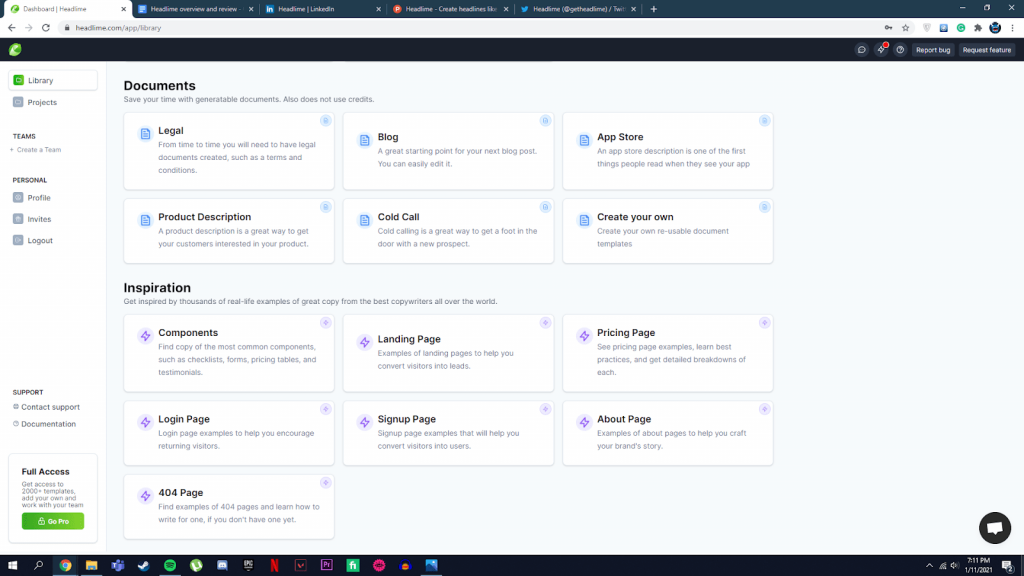 At the end of the Dashboard, we find the Documents and Inspiration section from where we access the automated document generator which we can use to generate Legal, Blog, App Store, Product Descriptions type documents, or create your own documents using reusable templates.
Similarly, from the Inspiration section, you can get inspired by thousands of real-life examples from the best of the best in the field. It contains templates of landing pages, pricing pages, login pages, signup pages, about pages, etc.
Once we are done with the overview of the dashboard, we can get started by clicking on the projects button on the left menu bar to open up the "My Projects" section.
On the "My Projects" page we can keep a track of all the projects that we've created or we can create a new project to work on. To create a new project, simply click on the "Create a project" button after that you'll be asked to enter a name for this project, and then simply click on create project. Your project will be created with the name you've specified.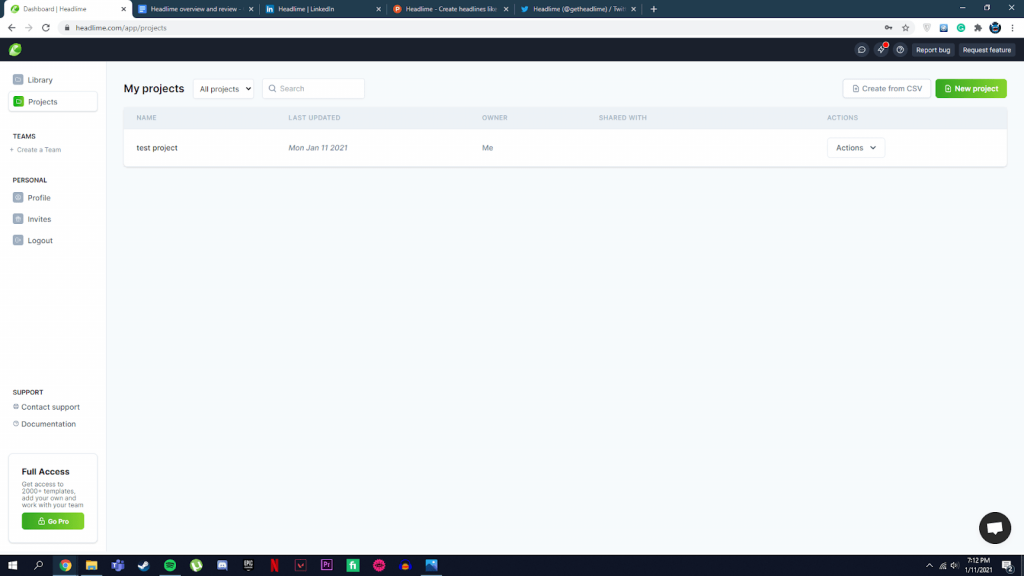 Now to proceed further click on the "Actions" button next to the name of the project that you've created. A drop-down menu will be shown from where you click on "Open" which will take you to the main part of the dashboard where you can craft AI-powered goodness with a few clicks.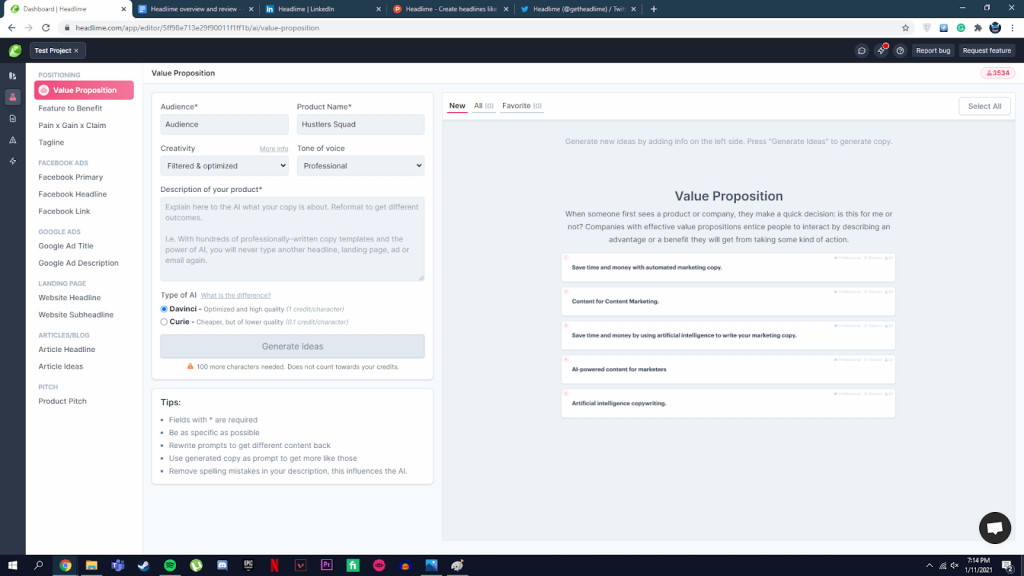 This takes us to the main dashboard area where all the magic happens. You will now be greeted with the part of the dashboard where you can craft the perfect marketing copy for your business. On the left side, you can see the menu which contains a list of all the functions that you can perform using Headlime such as Website Headline, Article Headline, Landing Page, etc.
After selecting the appropriate function, you're required to enter some details such as the target audience, the name of the product, category, creativity type, type of voice, and then you have to enter at least 100 characters describing your product. After that, you simply click on "Generate Ideas" and all the AI-generated marketing copy, headlines, and ideas will be shown on the right.
As we're currently using a trial account, most of the features are unavailable or only available for trial use. Going pro gives you access to over 2000+ templates, with unlimited possibilities and functionalities.
Headlime Pricing Structure
Headlime surely is a wondrous creation that is being used by successful businesses across the world to skyrocket their growth. Everybody wants to get their hands on this miraculous tool and to facilitate these users in a better way, Headlime offers 3 different pricing plans. These different plans include Pro, Business, and Agency.
While the trial account gives you a gist of Headlime works, the real experience lies in using the paid plans as they give you complete access to all the resources at Headlime such as thousands of professionally-built templates and designs.
Pro plan is the most suitable plan for the average joe who is looking to increase his sales or attract more customers towards his business, or website using marketing copy and headlines generated using Headlime. It comes at the sweet price of $29 per month and offers the most bang for your back as it includes all the necessary tools needed to perform this task.
The next plan is the Business plan which costs $49/month and includes additional AI Credits on top of the pro plan and offers a much more sophisticated approach if you're running a top-scale business. 
The Agency comes at the price of $89/month and comes with all the additional bells and whistles that include the feature of having unlimited teams with 5 team members included in this plan. This plan works best for a collaborative approach where you have different members working beside you. It also includes the option of having a team-wide database to manage and store copy, and also allows you to use your branding while doing so.
Headlime Customer Support
Alongside providing valuable services, one other thing that makes the biggest difference is having the ability to retain customers and extract more value from them. Good customer services help the customer feel more valued and respected. The folks at Headlime understand this importance and take the matter of customer support very seriously.
Headlime offers several ways through which you can contact the customer support. One of the most prominent features of their customer service is the "support chat" feature through which you can contact their customer support service any time of the day.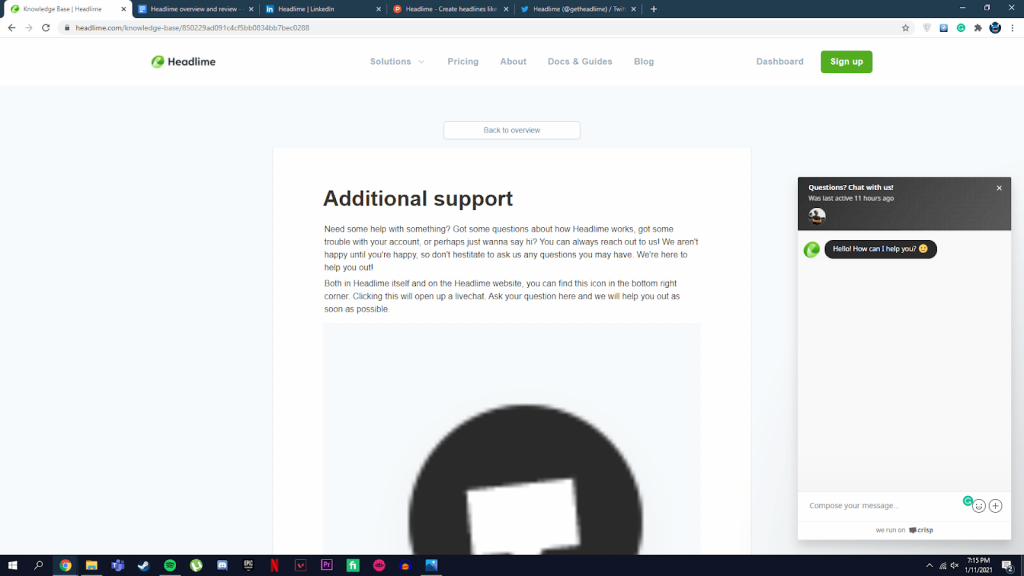 The live chat feature is available on both the Headlime website and on Headlime itself. On the website, you can access the live chat feature by clicking on the support-chat button which can be found in the footer of the website. While on the dashboard of Headlime itself, you can access the support live chat by clicking on the chat button on the top menu bar on the top right corner.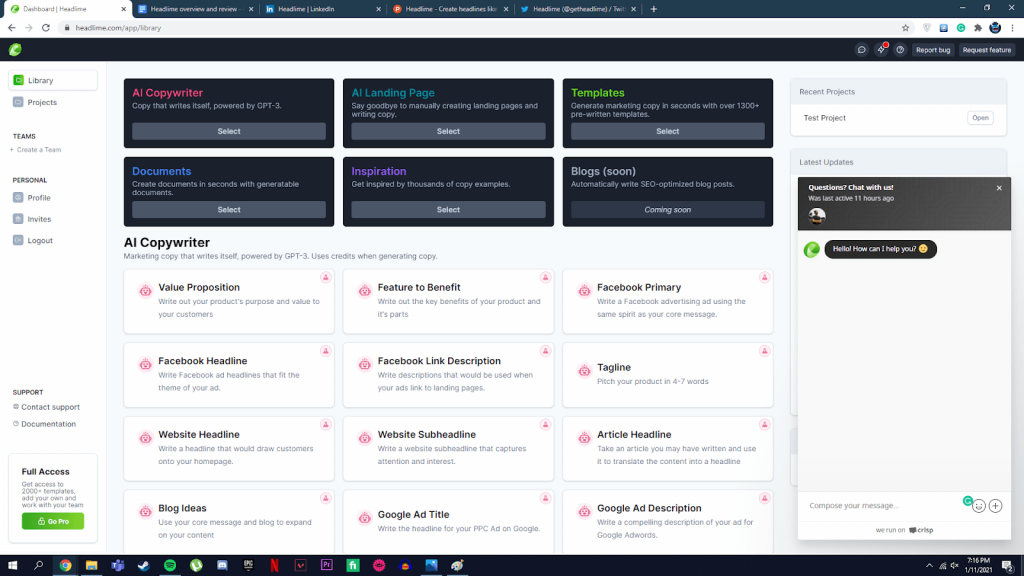 However, if you're someone who prefers the traditional way of sending an email, then no problem. You can send an email with your concerns, requests, questions, or suggestions to support@headlime.com and their customer service will get back to you as soon as possible. The customer support of Headlime is very proactive and will be able to help you regarding all your concerns and queries at the earliest. 
Wrapping things up we fully acknowledge the miracle-worker that Headlime is, but is it worth its price tag? The answer is a million times YES!
Headlime has the capability of freeing up the workflow significantly with little to no compromise on the quality and efficiency. Hundreds of well-known and well-established companies and businesses are profiting from this handy tool and driving up their sales, profits, and audience reach. $29/month for a tool that replaces your traditional, overburdened, and clumsy copywriter with a modern, AI-powered, and 24/7 available interface. That's not too bad if you ask me.