One of the first things you'll realize about designing graphics is that it's not as easy as it looks. While we have a plethora of tools for meeting our design needs, not everyone is creative, and it's not always easy to use them. For instance Photoshop is the top dogg when it comes to designing but it has a steep learning curve.
With so many tools available, it's hard to decide where to start when creating stunning graphics. And if you've never done graphic design before, it's hard to know what kinds of tools to use. Luckily, there's Pixelied.

Pixelied is an online graphic design platform that's great for making social media posts, business cards, graphics for your blogs, and more. An easy-to-use drag-and-drop feature simplifies using thousands of templates, from social media graphics to complete presentations. And the best part? It offers a free plan!
Pixelied is great for creating graphics for your blogs, social media, business, etc., especially if you're just starting. It's easy to use and it can help you create eye-catching graphics quickly and easily, even if you have no previous experience.
Who is at the helm of Pixelied
Pixelied was founded by Dawood Khan in September 2019. It is a software as a service (SaaS) graphics design solution with headquarters in Walnut, California, US. Dawood Khan is the co-founder and CEO of Pixelied, an online graphic design service aimed at providing a cost-effective solution. He wants to make problem-solving products that people can benefit from.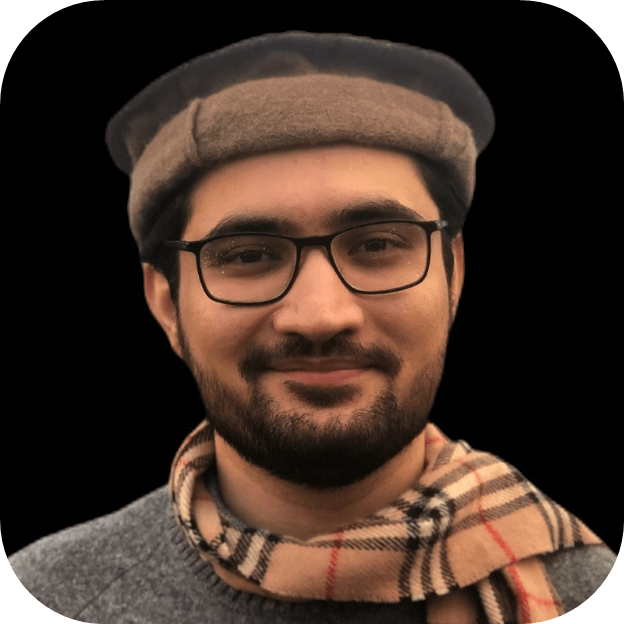 Dawood Khan, the founder of Pixelied
Dawood Khan has extensive experience working in the tech industry where his skills, initiative, problem-solving abilities, and positive attitude enabled him to achieve and lead. Dawood has launched several startups since the age of 17, and though most of them failed, his latest venture, Pixelied, has been a success.
Quba Fatima, an alumnus of the University of Sindh, is currently working as the Lead Designer at Pixelied. She is also responsible for designing and developing the user-oriented UI/UX. Additionally, she manages all the operations related to design and interaction, as well as quality assurance. 
The other members of the designing team include Ruqaiya Sheikh and Sehrish Mehmood. In addition to being proficient in graphic designs, layouts, and templates design, they are also very passionate and want people to benefit from their designs.
How does Pixelied work and what makes it so useful?
Blogging and social media are more important than ever, but designing and creating visuals for both is a time-consuming process. Fortunately, there is a better way to create social media graphics. That way is Pixelied, an easy-to-use graphic design tool that allows you to create a wide variety of visuals and graphics without missing a beat.
Pixelied lets you easily create stunning graphics by arranging images and text however you want to. It is a drag-and-drop platform with the designs and templates needed for social media graphics, presentations, posters, documents, and other visual content. 
Pixelied offers a wide array of features that allow designers to easily make graphics for websites, blogs, and computer programs. Let's take a look at all the features that Pixelied has to offer and why they are so useful.
Pixelied editor allows you to select any design template and edit it in just a matter of seconds. Its advanced technology makes it faster than most other design tools.  The editor's simplicity makes it even suitable for non-designers.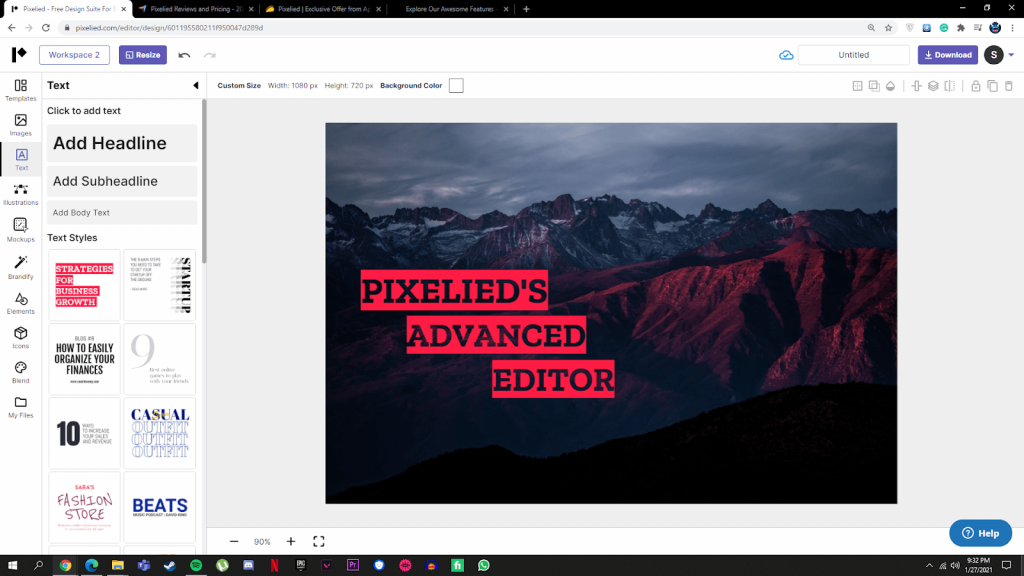 In the advanced editor, you can use the tools to adjust the size, shape, and color of your photos. You can also adjust the borders of your images, add effects using shadows, and even use layers to create new effects. Besides, Pixelied also allows you to add text to your images that you can customise as per your needs.
Background removal is very important specially for e-commerce and other design projects. It not only helps you make your images look clearer, it also lets you add a new background to them. Though, it is a difficult task to do it manually, as it takes time, expertise, and a good eye. Pixelied's Background Remover lets you do it in seconds.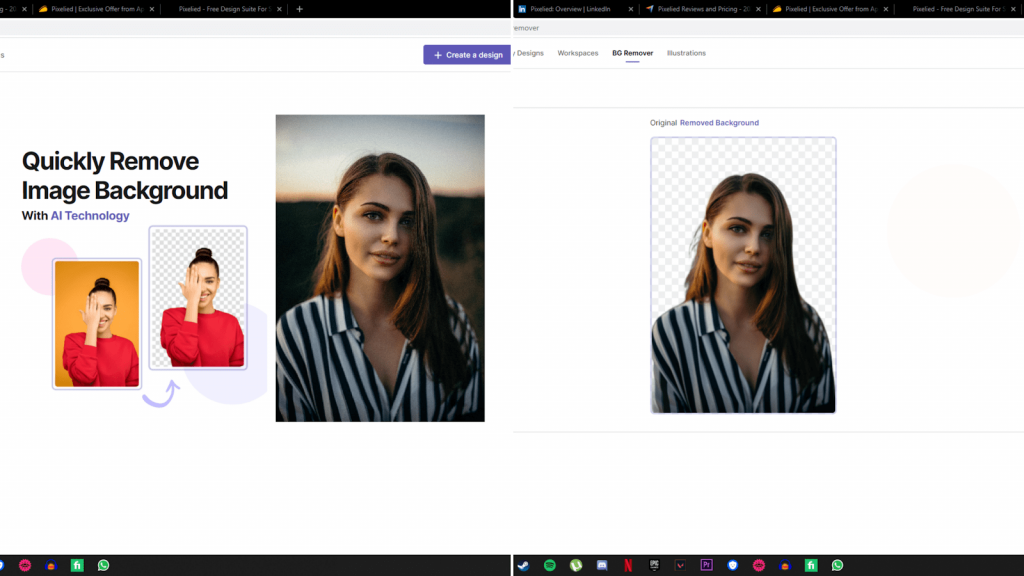 Pixelied's background remover takes a picture, then cuts, masks, or clips out the background and saves it. Pixelied uses artificial intelligence to detect and separate the foreground from the background, and then automatically composites the final image. It's quicker, cheaper, and more efficient than many other background removal services.  
If you've ever wanted to design a header, a poster, a book cover, or a social media post but don't have the design skills to make it look good, Pixelied is here to help. In their ever-growing library of templates, you'll find hundreds of ready-made templates, from blog designs to social media graphics. Must. Have. More. Templates.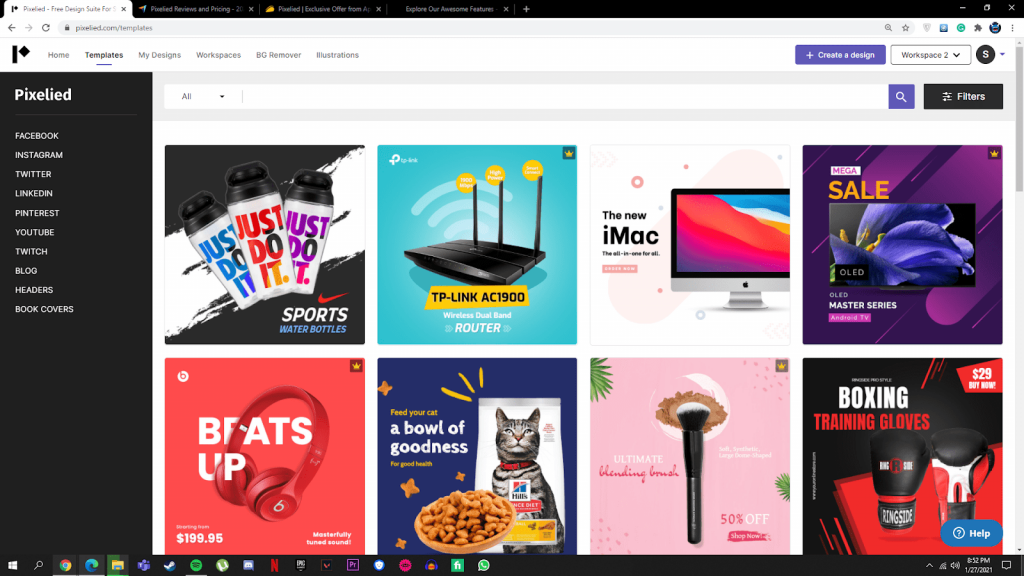 With point-and-click functionality across all templates, you can easily add text, images, shapes, and more to your designs. The great thing about templates is that they give you a great starting point so you can move quickly from an idea to a finished design.
With so many beautiful, captivating, eye-catching images available on the internet, it can be tempting to use them for your personal or professional project. Many of these images are tagged with copyright notices. So what can you do in situations like this? Pixelied offers access to a massive library of millions of stock photos.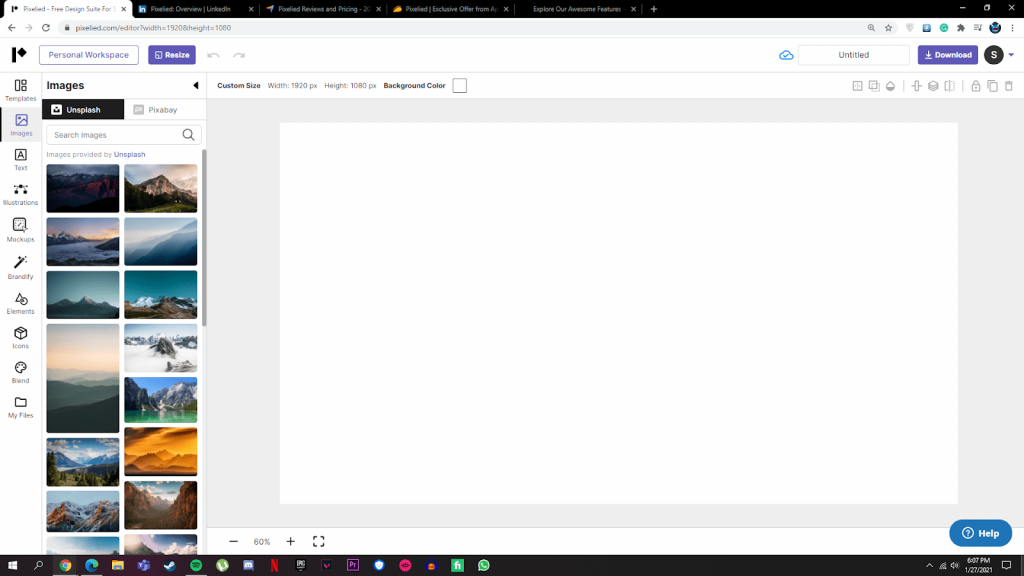 With over 3,000,000 royalty-free stock photos, and graphics at your fingertips, Pixelied's library of visual resources has something to suit any project. Choose from a wide selection of images that you can use to create a stunning graphic, or opt for a fully customizable design so that you can create your unique designs.
Among the biggest features that Pixelied brings to the table is the library of hand-drawn illustrations. Pixelied has a library of 700+ hand-drawn illustrations with a variety of styles and categories that you can browse through and use in your designs.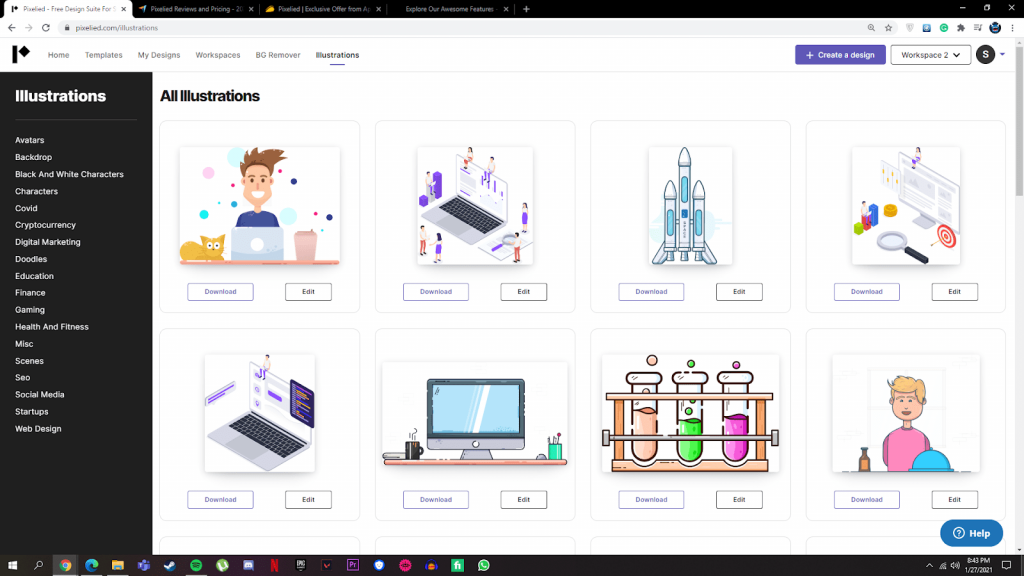 Pixelied's library has everything from characters and objects to hand-drawn art and scenes that you can use for your blog, social media, or just to brighten up your day! Not only are the hand-drawn illustrations pleasing to the eye, but they are also more accessible to even those who are not professionals.
Every great design starts with a great icon, don't let anybody else tell you otherwise. Use them to make your graphics pop, design your social media graphics, and give them that little something extra. You just can't resist these adorable little things.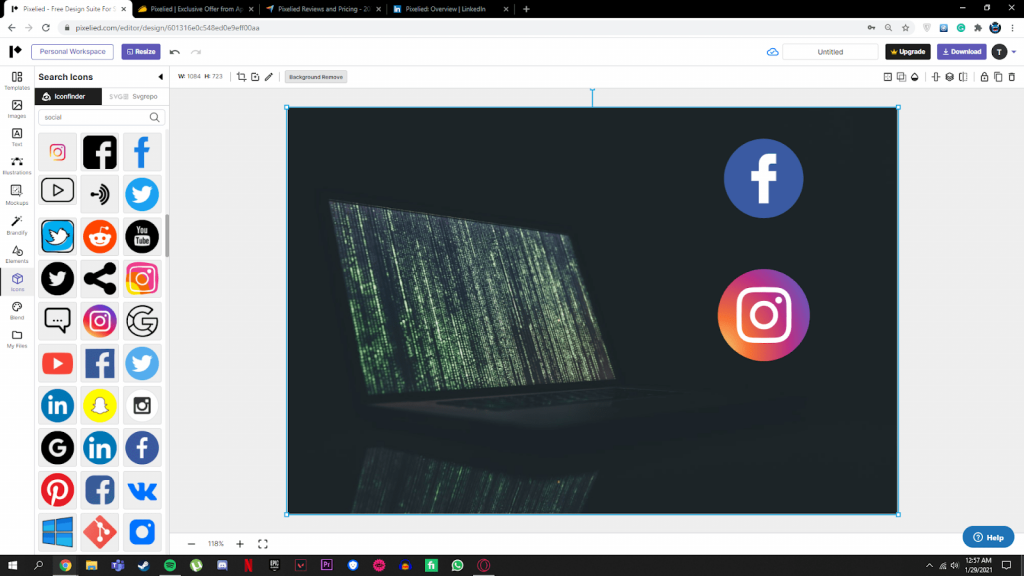 With a library of thousands of icons in every shape, color, and style you'll need, you can easily find exactly the icon you're looking for. Easily find icon sets for any purpose or occasion with no experience required.
Products mockups are an excellent way to display your designs by incorporating a manufactured look. You can use them to showcase products and design concepts, and Pixelied makes it easier than ever to create them.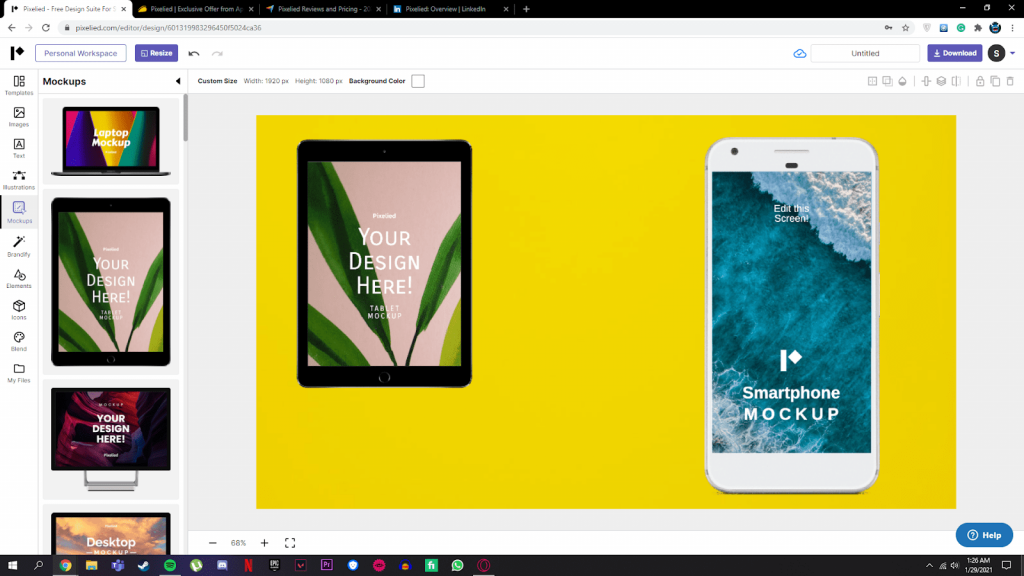 Mockups in Pixelied can be created by adding a new blank template, choosing an image from a stock library, and then dragging and dropping it into the layer. You can then customize it by changing colors, adding texts, patterns or textures, and more.
You can upload existing vector files from Photoshop and Illustrator, and they'll appear on Pixelied's editor in just a few moments. It's a quick and seamless process that eliminates the need to find new images or edit vector files.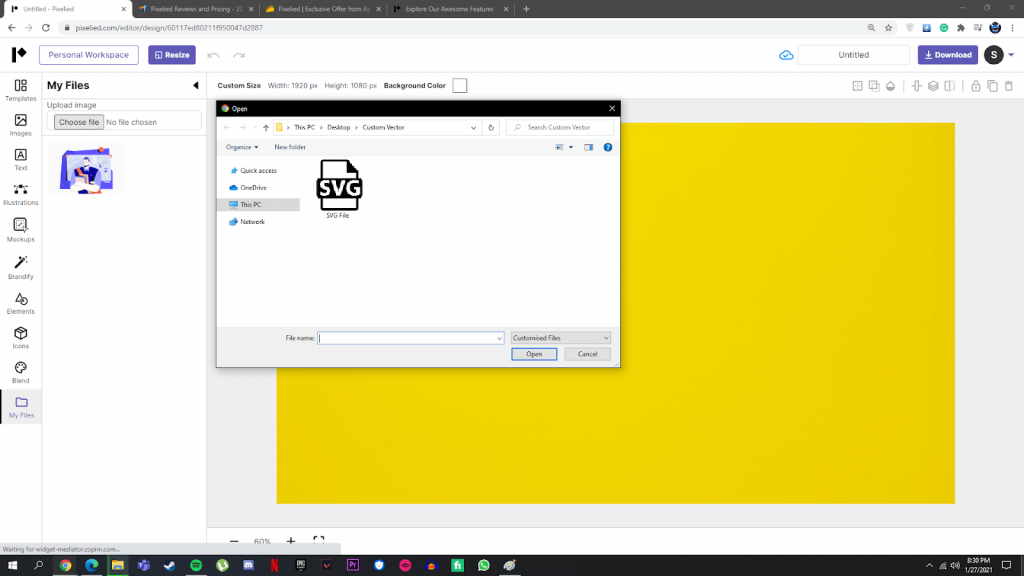 Pixelied also allows you to fully customize the colors of this vector file and makes the customization process simpler. After that, you can place it wherever you want in your design, and adjust its size according to your needs.
Images are an important part of social media marketing, but manually resizing them to fit different social networks can be a pain. If you upload a picture that is too large or too small, it won't look as good as it could. Luckily, the team at Pixelied has a solution: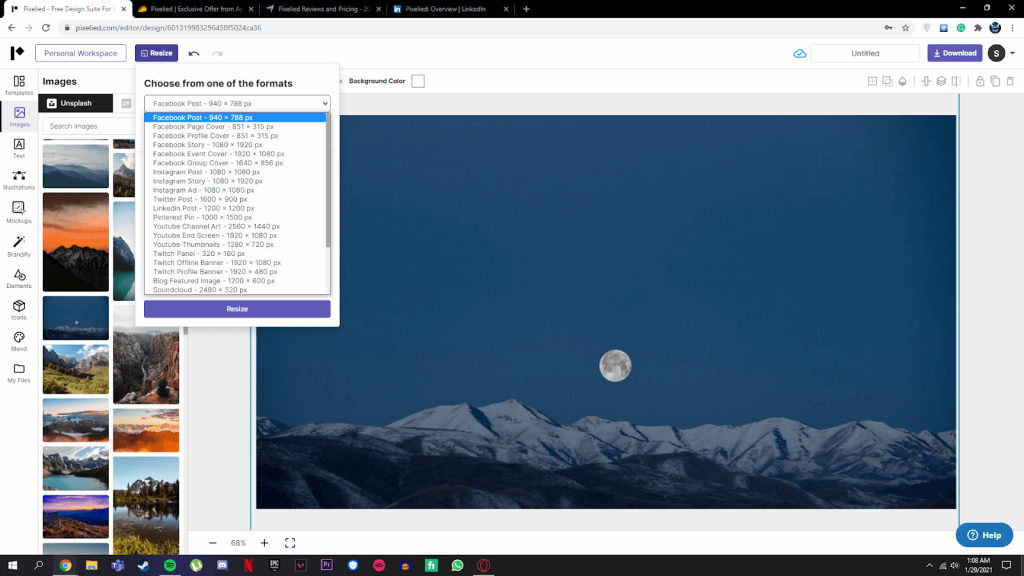 You can use image resize presets to quickly create images that are perfectly sized for use on Facebook, Twitter, and other social media platforms. Pixelied offers these resize presets to make sure you never have to worry about image size again. You can also resize your images using the height and width parameters.
Creating workspaces on Pixelied is a sure-fire way to boost your productivity. If you're working on different designs, for example, and you're constantly having to go through the hassle of downloading assets and changing colors, it'll be far easier to create a separate workspace with all those files in place.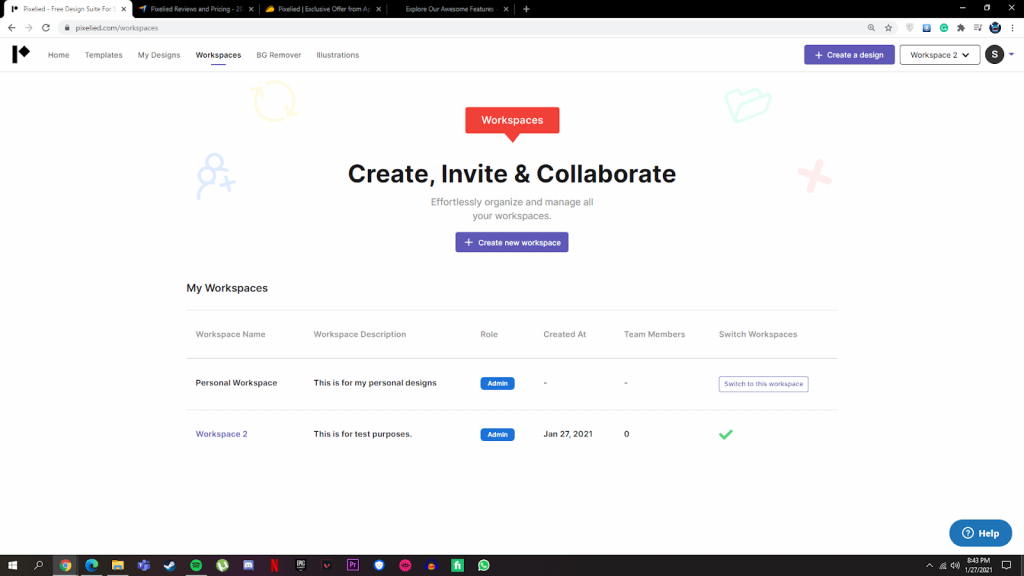 The workspaces menu allows you to quickly create and switch between workspaces with just a click of a button. A new workspace is essentially a new canvas. You can even add different team members to each workspace, allowing you to switch between different projects with ease, without having to worry about sharing assets or designs.
Pixelied is an excellent tool for people who do not have graphic design experience but need professional graphics for their blog, website, and social media accounts. Pixelied has been gaining traction in the world of graphic design lately. From beginners to seasoned pros, Pixelied is a fantastic resource for all of us.
However, as with every other tool in the world of graphic design, Pixelied has its share of pros and cons. Let's take a look at its strengths and weaknesses.
Wide range of ready-made templates that you can customize to create high-quality graphics.
Ability to upload your vectors from programs such as Photoshop and Illustrator to use in your designs.
Pixelied allows you to upload your custom fonts that you can use in your designs.
Access to Pixelied's massive library of millions of stock photos and icons for both commercial and personal use.
Pixelied's easy-to-use interface lets you create design-specific graphics, such as those for Instagram Stories, YouTube channel art, and more.
AI-powered background remover lets you remove the background from any image in and out of the editor.
Pixelied gives you control over every aspect of your design allowing you to experiment with fonts, colors, elements, and more.
Pixelied offers a wide selection of professional filters and effects that you can use to enhance your pictures and photos.
Workspaces make collaboration with other team members easier by allowing you to effortlessly organize and manage different projects all in one place.
Pixelied's Library of illustrations consists of more than 700 hand-drawn illustrations in many different styles and categories.
Pixelied's customer support is just as responsive as the tool itself and cares for its users.
Background removal tool comes with the paid plan and can only be used a handful of times as you get only 10 credits every month.
Pixelied offers limited functionality as it allows you to only work with images, there is currently no support for video or animation.
Pixelied most certainly needs a dark mode that would be easier on the eyes, especially when designing at night.
Pixelied is no stranger to the concept of pros and cons, but the pros outweigh the cons here. Pixelied has many benefits, but also a few limitations. However, Pixlelied is constantly being updated, meaning it will only get better as time goes on. Pixelied is an incredibly powerful tool that everybody should be getting their hands on, as it is capable of giving the other graphic design tools in the market a run for their money.
Pixelied's Onboarding Process
When you're first getting started with Pixelied, it's easy to feel overwhelmed. But, don't be! Because we'll walk you through everything you need to know to get started with Pixelied. The user interface is very straightforward and easy to understand. It will not take you more than a few minutes to figure out how to use it. It is rather user-friendly, and even if you are not a designer, you can use Pixelied without a hitch.
Just like any other SaaS tool, you'll first need to create an account and login to get started. You can create an account by visiting Pixelied's homepage and choosing between their free or premium plan.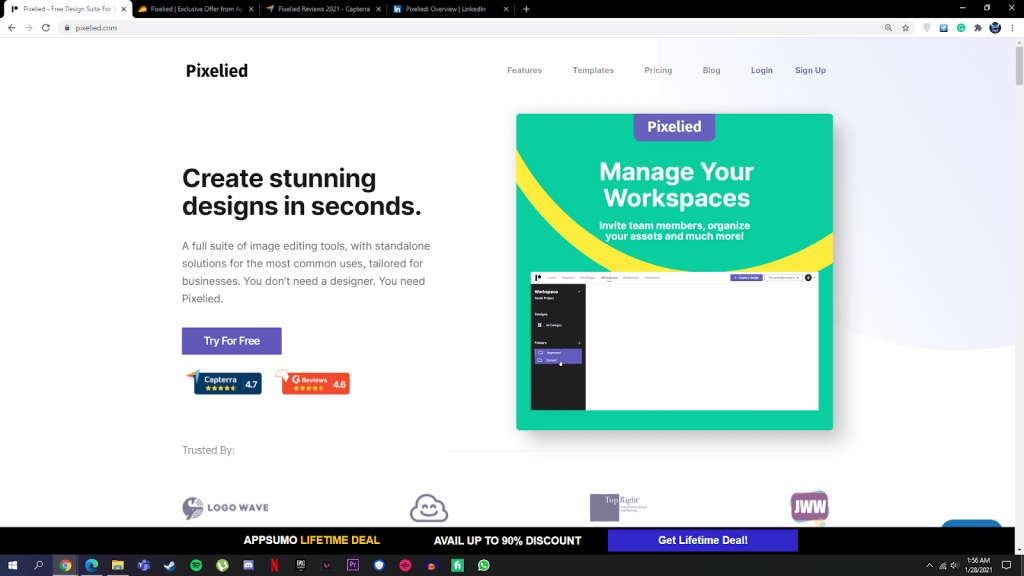 Clicking on the "Try For Free" CTA will take you to the account creation form that you need to fill in with your details before moving on. You have to enter your name, email address, and password to proceed. Alternatively, you can also signup through a Facebook account.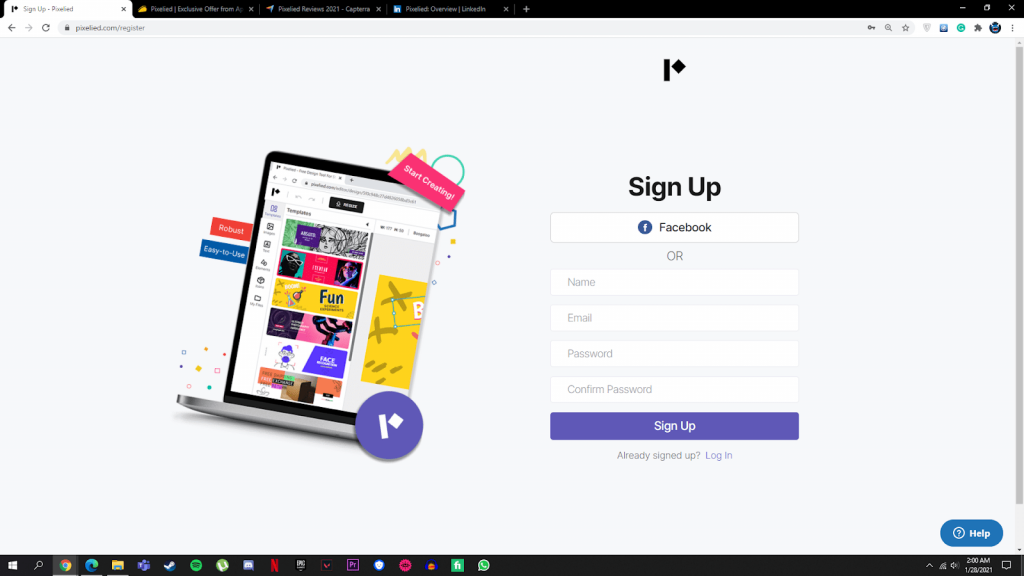 Once you have done that, an email will be sent to the address you have provided. You will receive a confirmation link that you must click on to verify your account and complete the registration. It takes almost no time to complete the registration process, but you need to have an account to use Pixelied.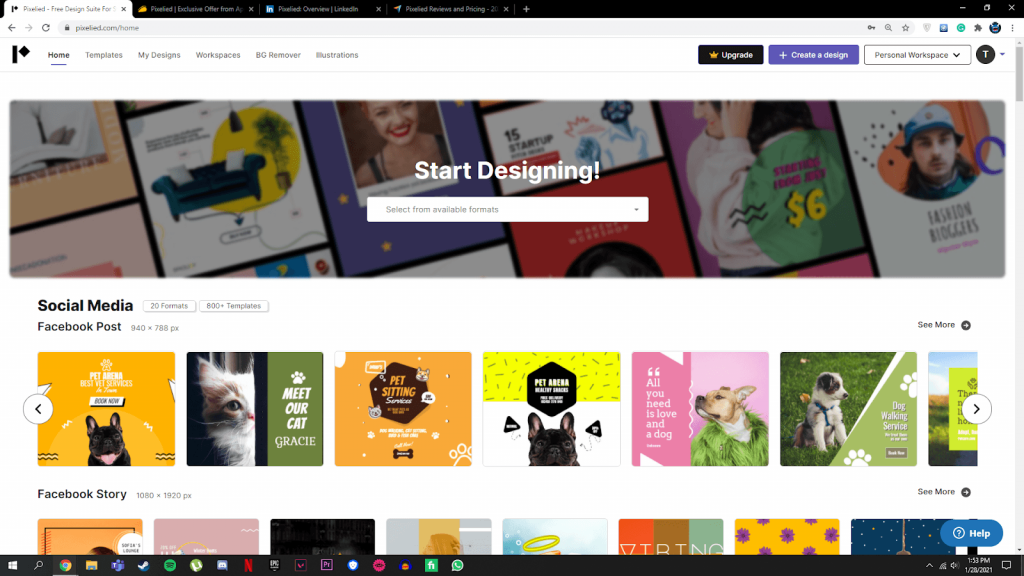 Once you've verified your account, you're taken to the main dashboard which looks something like this. You can access all the templates, designs, and illustrations from the header, while you can also use the background remover tool from there without even going into the editor.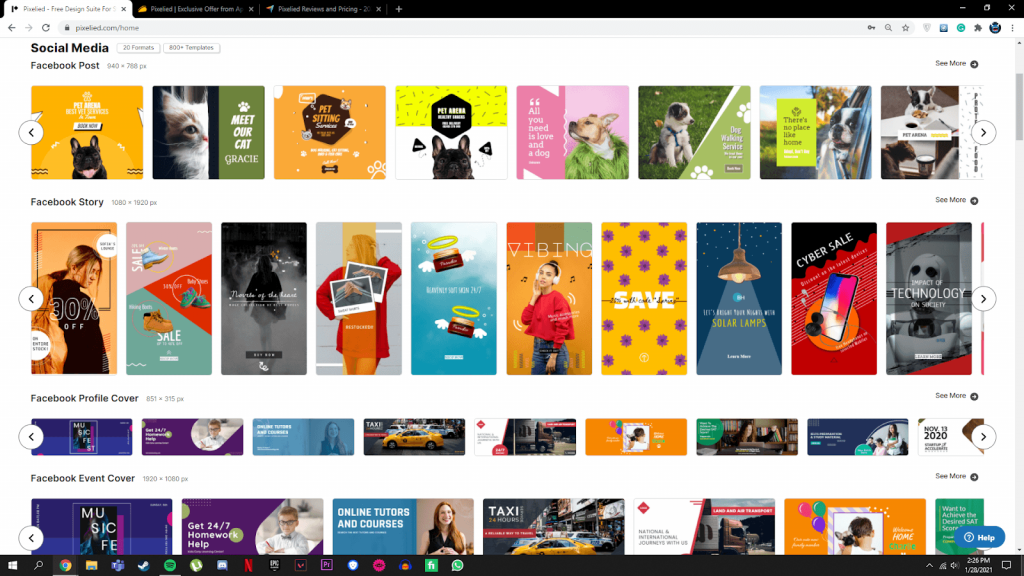 You'll see that there are a lot of different design-specific templates you can use for different social media platforms once you scroll down. Selecting any of these templates will take you directly to the editor where you can modify them as per your requirements.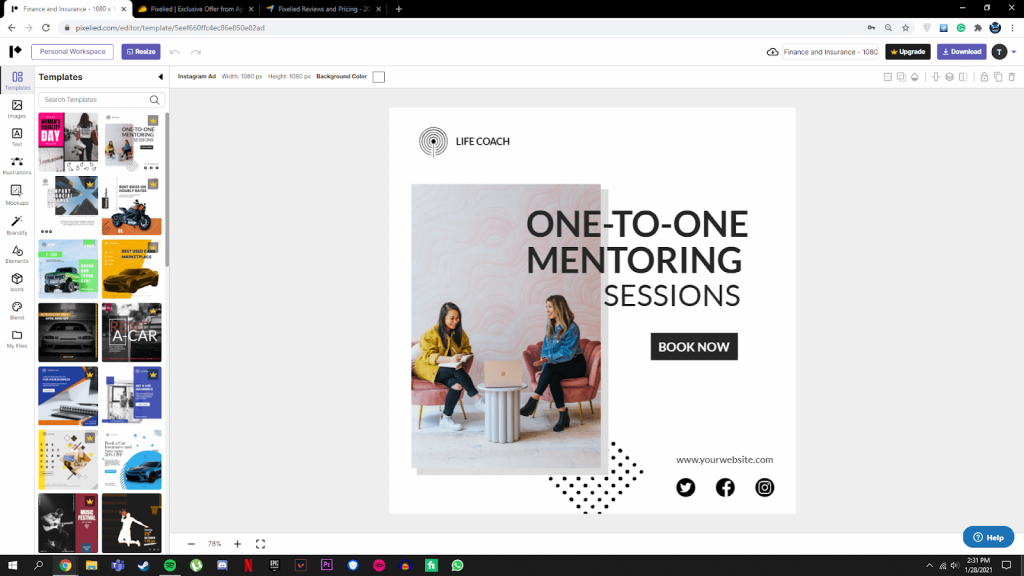 By clicking on "Create a Design" in the header, you can also create a custom canvas by entering a specific width and height for your project, on which you can add templates, illustrations, photos, and elements to customize it and create a custom design for yourself.
The best thing about Pixelied is that it gives you complete freedom with all of its tools and functions, and you can just simply let your creativity go wild. You can create your designs, or you can make use of some of their templates to get a head start. 
Pixelied's Pricing Structure
The first thing you need to know about Pixelied is that there are two plans—free and paid. While the free plan only provides you with limited options and functionality, the real buzz comes with the pro plan, which can be canceled at any time. However, if you want to make the most of the tool, you'll be better off with a paid plan.
Whether you're a seasoned designer, or just getting started, Pixelied has you covered. Here's a quick breakdown of the main differences between the free and pro plans.
The Free Plan might be your best bet for getting stuff done quickly without spending a dime. However, If you are on the free plan, some limitations won't let you get as creative as you want to. Some of the most important features are off-limits to you on the free plan, like Workspaces, Mockups, Custom fonts, etc. 
The Pro Plan gives you the most bang for your buck, as it gives you access to everything, including unlimited downloads, unlimited folders, and the ability to resize and upload your custom fonts. Lastly, you can add workspaces and users, which is incredibly helpful if you work in a team.
Pixelied's Customer Service
Customer service often goes unnoticed. In the early days of a business, getting customers can be difficult. So when you get a new customer, you want to keep them around. It's not just about communicating and responding to inquiries promptly, but about going above and beyond to exceed their expectations while helping them.
That's why Pixelied's customer support team is very responsive to questions and provides its customers with the top-notch customer support. The founder himself is available at your disposal and he replies within minutes to take care of your situation. Customer support can be approached through several ways.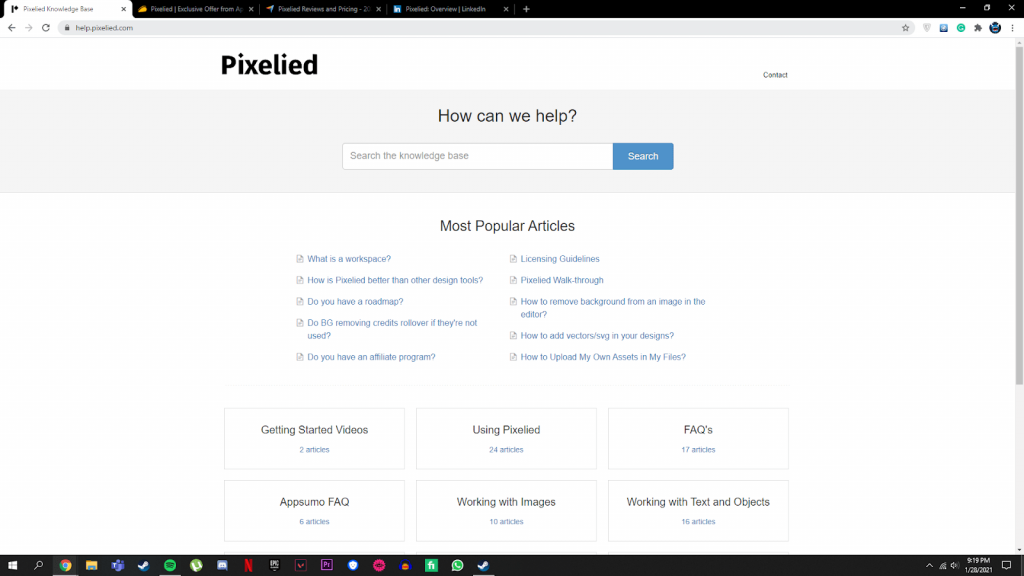 If you scroll down to the footer and click on Knowledge Base, you will be taken to the help center. It contains several guides and articles that can help you get started. Additionally, you can choose to contact the support team by clicking on the "Contact" button.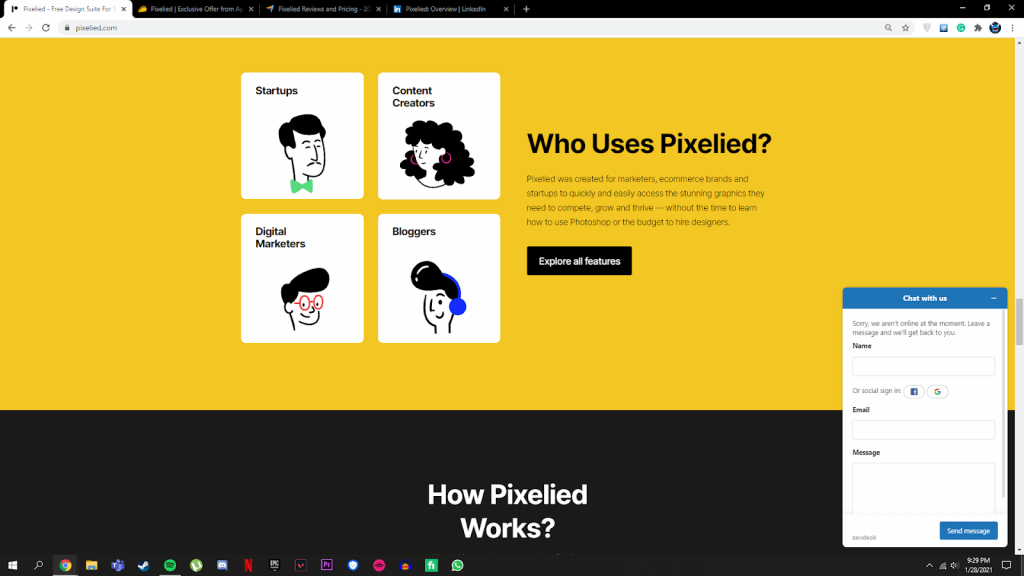 You also can chat with the customer representative by clicking the chat button in the bottom right corner of the website. The support team is highly responsive and can assist you with any problem that you may be experiencing.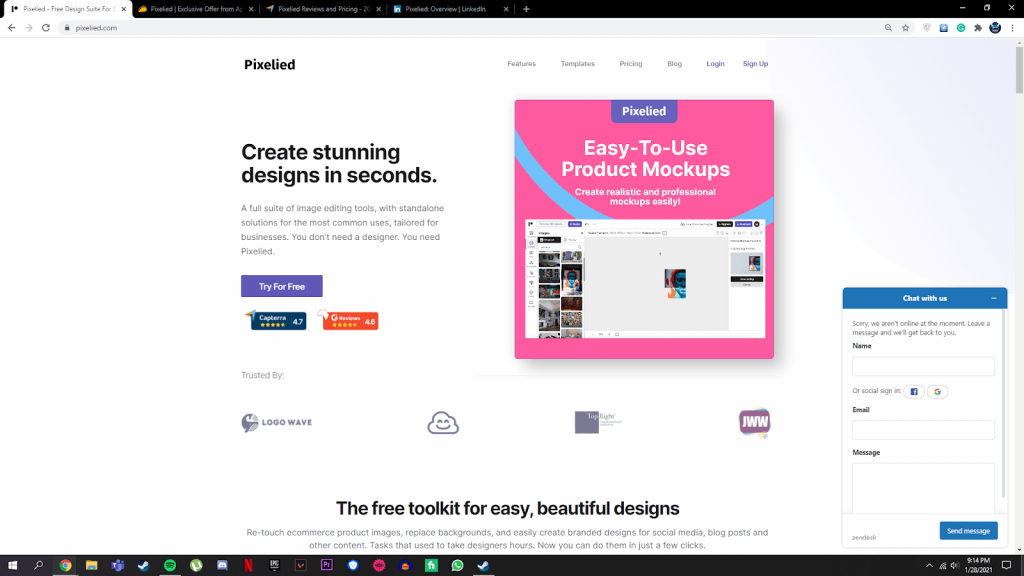 Luckily, Pixelied has a pretty dependable customer support team that you can count on to help you troubleshoot your issues. You can also email them at support@pixelied.com with any concerns, requests, questions, or suggestions, and they'll get back to you as soon as possible.
The truth is there is no definitive answer to the question of whether you should prefer Pixelied over its competitors in the design space. What works for one may not work for another, as everyone has different preferences and requirements when it comes to graphic design.
Well, the verdict? Pixelied is a great way to make graphics and the massive library of templates and icons makes it even easier. However, there are some limitations. If your project requires animations or sound, you'll soon learn that Pixelied does not offer that functionality. Despite all of its shortcomings, we do believe that Pixelied could be headed in the right direction. Those who are looking for a reasonable alternative that has most of the solutions under one roof should consider Pixelied.