Ever felt like banging your head against the wall because no matter how hard you try to think, you're all out of ideas. Your creative juices stop flowing and your thought-process decides to leave you at the last minute when you need it the most.  Having a business idea is beneficial as it can not only earn you income, but it can also give you a strong business network and help in brand-building.  Nonetheless, coming up with something new is easier said than done.
It's not that ideas and innovations are running out, it's just that we're rehashing the same ones over and over again. Now is a good time to introduce another player into the game. 
Nichesss is a creative writer powered by artificial intelligence that utilizes the latest GPT-3 technology to generate content such as business ideas, profitable niches, marketing copy, posts for social media, and so on.
Of all the challenges a person has to face, coming up with ideas for new products and services is definitely one of the hardest. And not only is it difficult to find a new idea that could be a game-changer, it's even more difficult to find a solid business idea that could bring some profits and get the company to the next level. 
Nichesss is an AI-powered tool that uses advanced algorithms and machine learning to help you find new business opportunities by analyzing a large amount of data, such as market trends, news, social media, etc.

Nichesss works with you to create content, whether that be a marketing proposal, blog post, advertisement, email, YouTube video, product copy, and more. It features personality quizzes that get you business ideas in return for answering some questions related to yourself. 
With a click of a button, you can find profitable niches within your target audience. The content it generates is as good or sometimes even better than what a human expert would write. Now, let's take a look at this tool and figure out if it's any good or not.
Who is at the helm of Nichesss?
Nichesss may be a relatively new product, released in 2020, but it is already far ahead of its competitors. Malcolm Tyson is the brains behind this amazing tool. Malcolm is a web development pioneer with over 9 years of experience, and his ultimate goal is to change the world through his software. Malcolm has expertise in software development, front end web design, mobile application, graphic design, UI/UX, marketing, startups, etc.
I've been a member of Nichesss' Facebook group where users and Malcolm interact with each other; what I can say is that Malcolm is deeply committed to his project, and his attitude toward it is inspiring. He answers every question, suggestion, and complaint himself in the Facebook group. He provides extended and passionate support to ensure that all users have the best experience possible.
How does Nichesss work and what makes it so useful?
If you want to tap into an audience you've never been able to reach before and want to share your ideas, articles, and other content with a larger audience, there is a simple solution. Nichesss is a Software as a Service (SaaS) tool that gives you all the tools you need to find the perfect niche for your business and then all the marketing materials you need to make that niche profitable.
So, what's the big deal? Why would you want a software to generate your content? Now let's take a look under the hood of this ideas and content-generating powerhouse and see if it lives up to its hype.
Nichesss has a business idea generator that generates business ideas based on your personality and interests. The AI engine is capable of generating new business ideas for you by combining your personality traits with trends in your industry. You can achieve this by participating in one of the many quizzes on the site, such as the passion quiz, the problem quiz, the people quiz, the skillset quiz, the hobby quiz, and the talent quiz. Take this ten-second quiz to find your perfect business plan.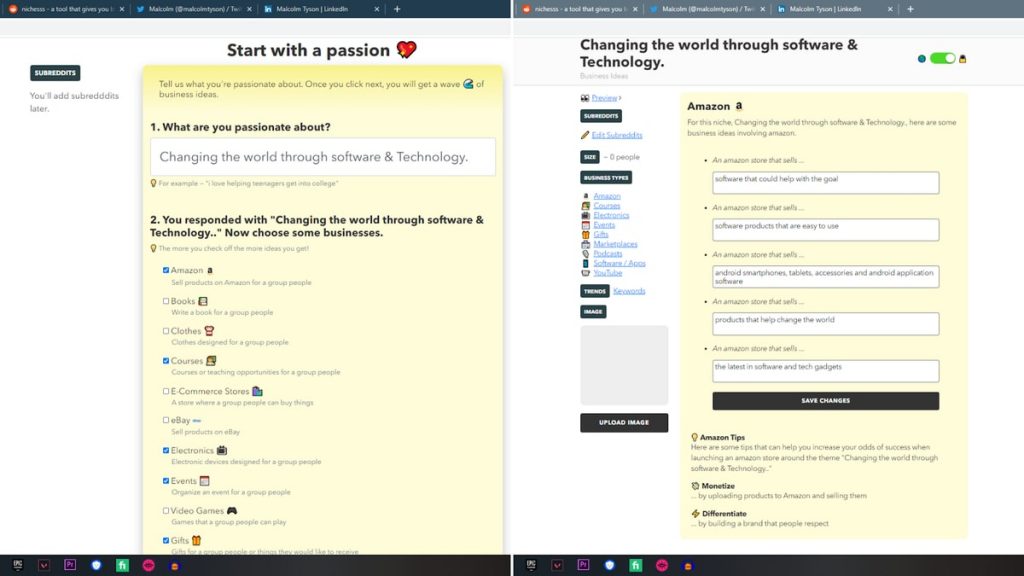 Answering a few simple questions about your passion, problem, potential customers, skillset, hobby, or talent will allow you to formulate business ideas based on your results. 
Without a marketing plan, it's unlikely that you'll be able to effectively sell your product or get the exposure that you're looking for. Creating a marketing plan for your business could give you an edge over your competition. Fortunately, Nichess's AI-driven marketing plan generator can help you create an effective marketing plan in minutes, without having to hire an expensive marketing agency.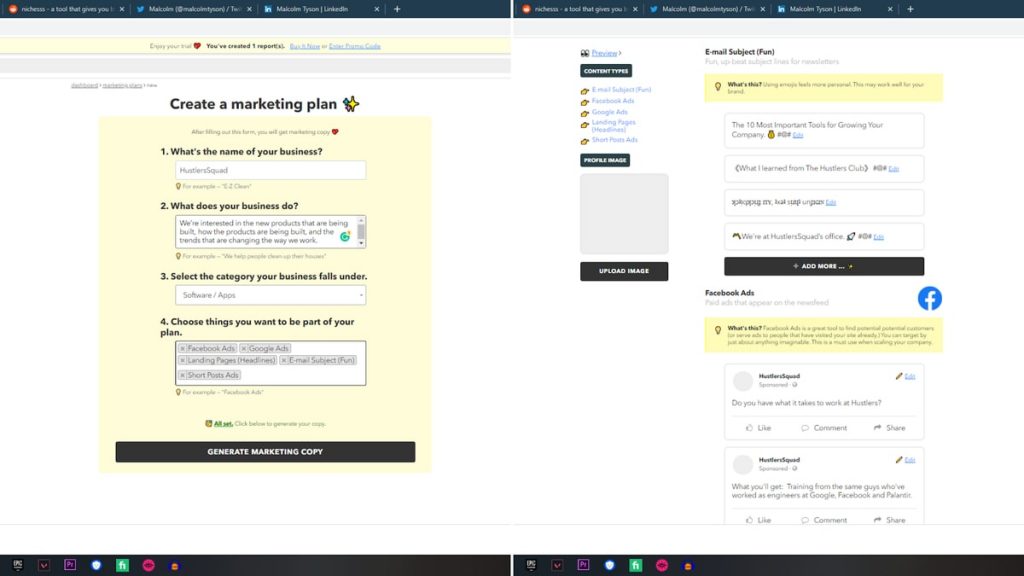 Marketing copywriting includes everything from writing an ad to creating a landing page to welcome people who visit it. Nichesss offers a marketing plan generator that includes tools for generating content for blog posts, emails, advertisements, landing pages, product descriptions and more.
Nichesss streamlines the process of creating content for image posts, which can then be posted on image-based social networks like Instagram to generate more audience. The Image Posts Generator can help entrepreneurs, marketers, and small businesses build their audience by sharing content via images online.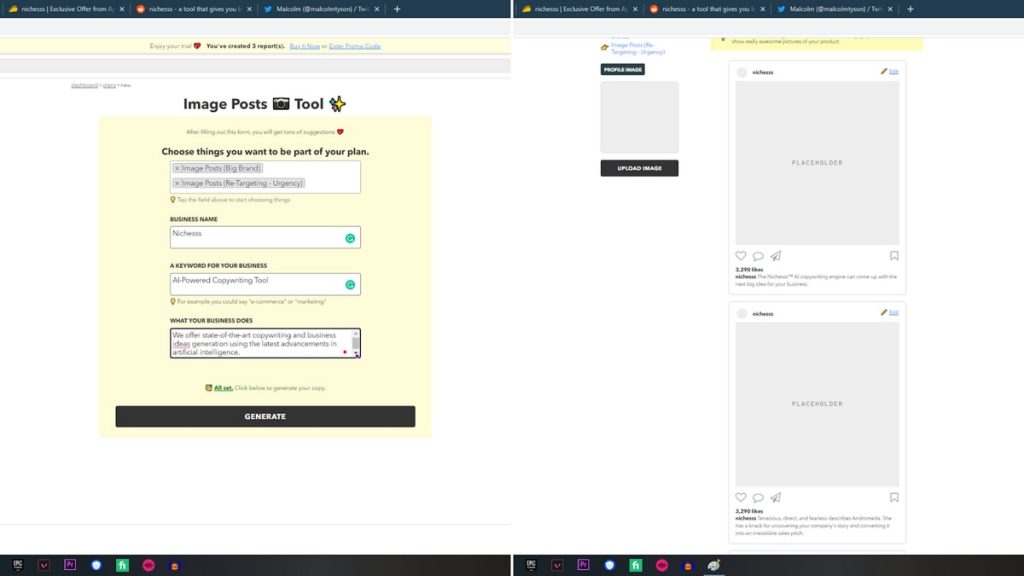 Image posts generator is a huge time saver for those struggling to come up with engaging content for image-based social networks. The tool generates optimized content for image-based social networks, such as Instagram, Pinterest, and Tumblr. This program saves you a ton of time that would normally be spent writing content for your image posts and ensures that all of your image posts are as engaging as possible.
If you are like most people, you are wondering how you can generate short posts that will capture everyone's attention and keep them coming back for more. Nichesss has the perfect solution for you! It uses Artificial Intelligence to automatically generate short posts about your niche, your topic, your business, or whatever you want. Doesn't that sound good?
Nichesss' short posts generator automatically writes short posts based on keywords and data you provide. The short posts are well written and can be published anywhere. Nichesss' short posts generator makes it easy for you to create content and get the exposure you deserve without breaking a sweat.
You've spent weeks researching, writing, editing, and proofreading a blog post, and you think it's perfect. Then, a day later, you discover that there were typos, grammatical errors, and even factual inaccuracies. Wouldn't it be nice not to worry about such things again? Thanks to Nichesss' Blogs Generator, you can! With a press of a button, this tool allows you to create stunning introductions and outlines for your blog posts.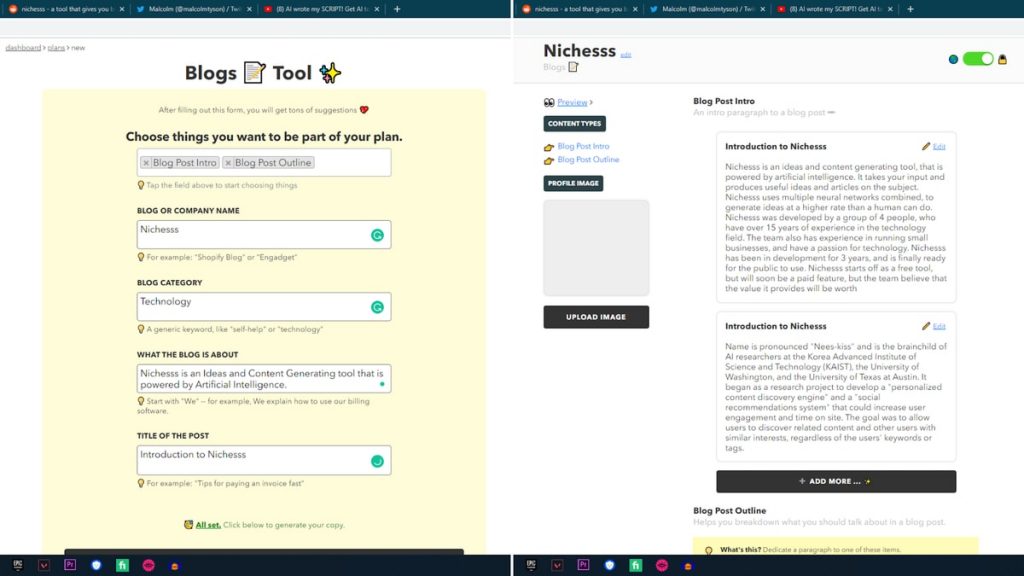 What makes this content so great is that it is very engaging and is of the best quality. Nichesss' blog generator can help you overcome writer's block.
The key to a successful product launch is to get early feedback from beta users and industry experts. But you must come up with a compelling post to convince an expert to try your product and then provide feedback. Once again Nichesss have you covered, you can easily create a post that users can submit feedback and comments to, and then reply to those comments.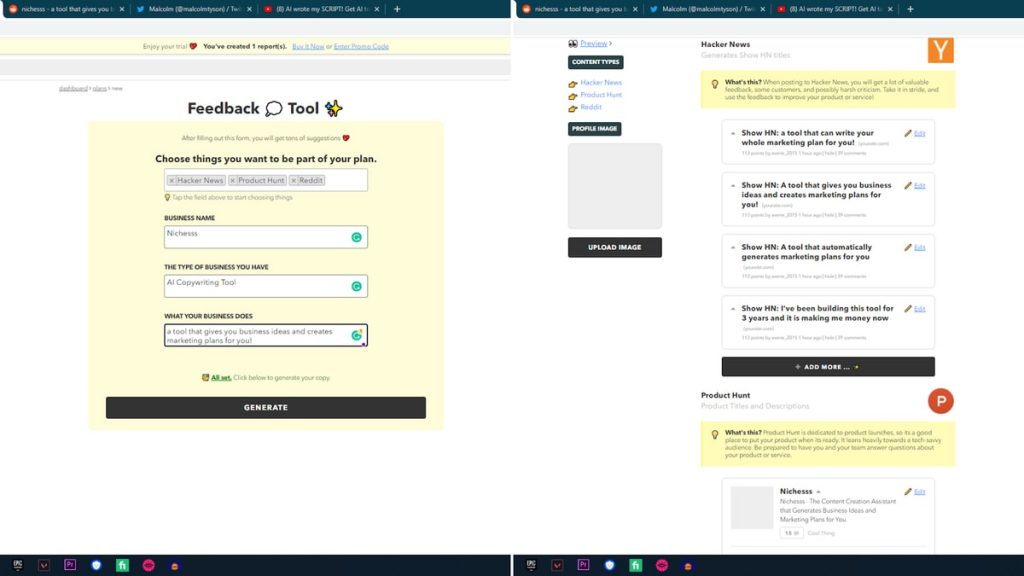 Nichesss' Feedback tool allows you to create custom posts to collect feedback from sites such as Reddit, Product Hunt, and Hacker News.
Are you tired of writing ads yourself, and want someone else to do it for you? Are your ads not converting the way they should? Well, look no further! Nichesss has the perfect tool that can help you with all of your online ads content writing needs.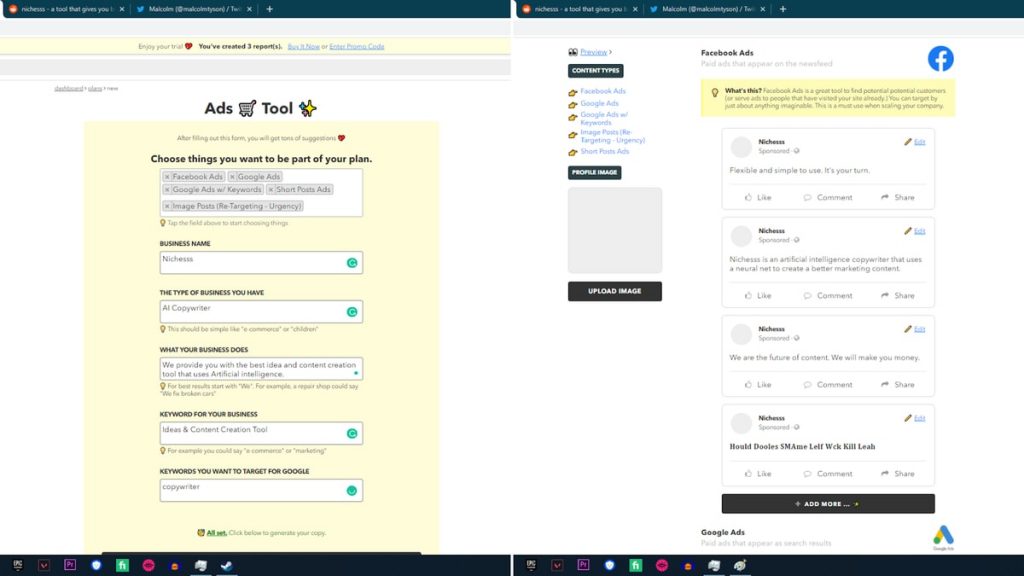 Nichesss' Ads tool uses artificial intelligence to determine what words to use for your ad based on your input and goals. This will not only make your advertising more effective, but also save you time to do other things.
YouTube is the second-largest search engine in the world, after Google. It is the most popular place on the Internet for watching videos.  And, it is one of the fastest growing social media sites in the world. 
Every YouTuber hopes to generate a loyal fanbase for his channel, but it's not easy to create original content. That is where a good content and ideas generation tool comes in handy.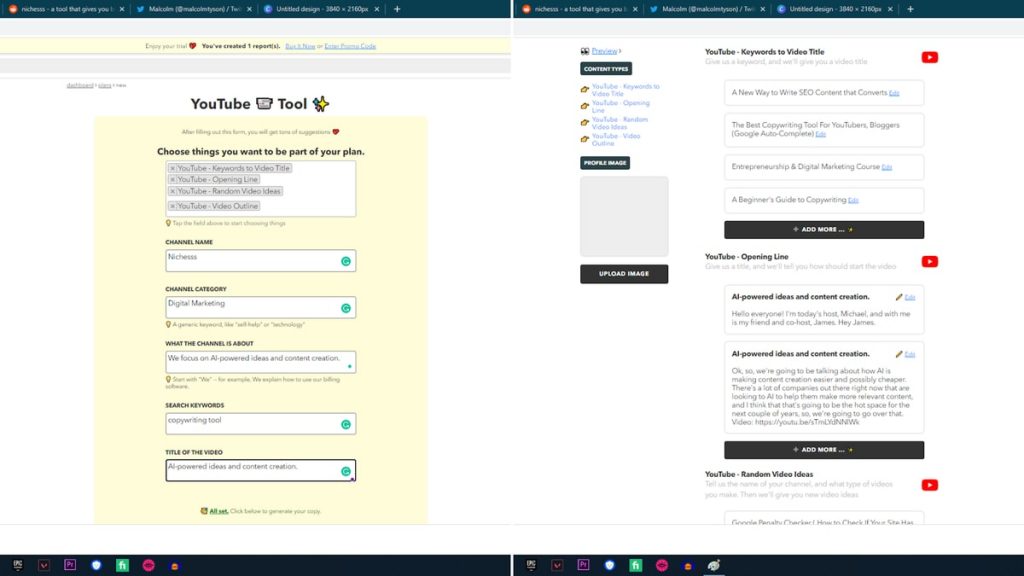 Nichesss' YouTube tool allows you to generate content ideas, opening lines, keywords to add to the title, and video outlines in seconds. By using this tool you can accomplish more in a shorter period.
You need something well-written to put in your business emails. You can't predict if the content will work, or if it will get you a response. What you need is a tool that will automatically create the outline for that content for you. Nichesss is that tool.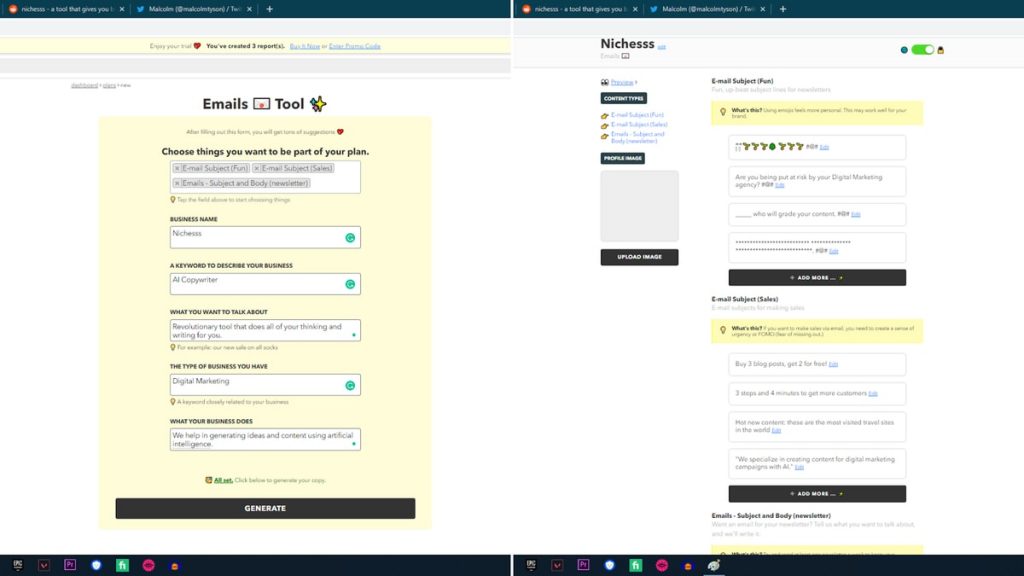 Nichesss' email tool can help you generate subject lines and body for your emails that will help you automate your whole email writing process. It will provide relevant content tailored to your business based on your preferences and input. 
Are you looking for a tool to help you write a product description? Nichesss is just the tool you need. Product descriptions can greatly contribute to a product's success. If the product descriptions are not written properly, people may end up misjudging the product. A good product with a bad description just doesn't sell.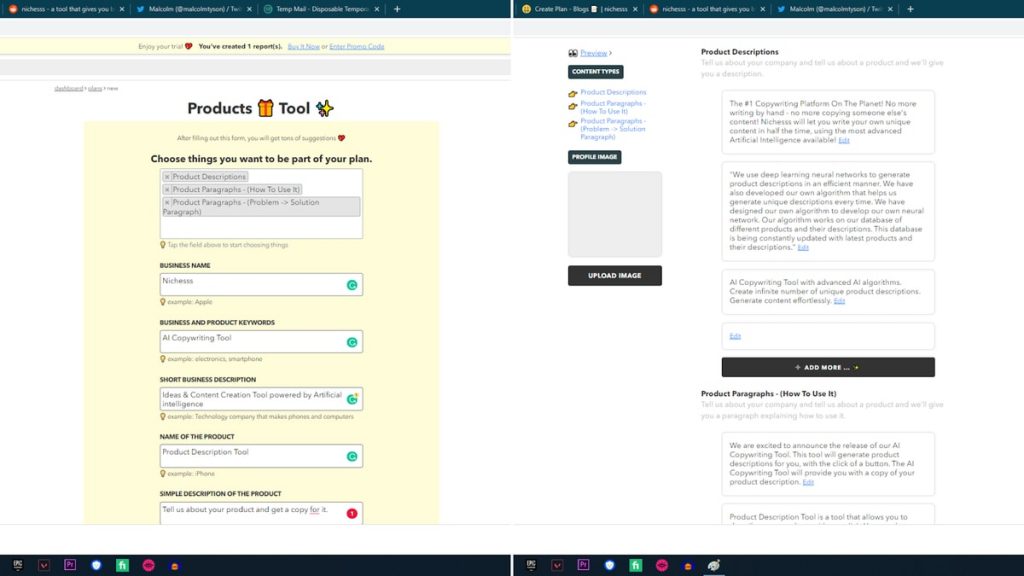 Nichesss' AI-driven content writers can write high-quality product descriptions, problem-solving paragraphs, and how to use paragraphs. This content generator can generate descriptions for various types of products.
It takes more than coming up with a good idea to start a business. It is true that sometimes coming up with an idea can consume all of your time and resources, causing you to miss out on more important tasks. That is where Nichesss' subreddit community search feature comes in handy. Reddit communities actively discuss current events, news, and other topics.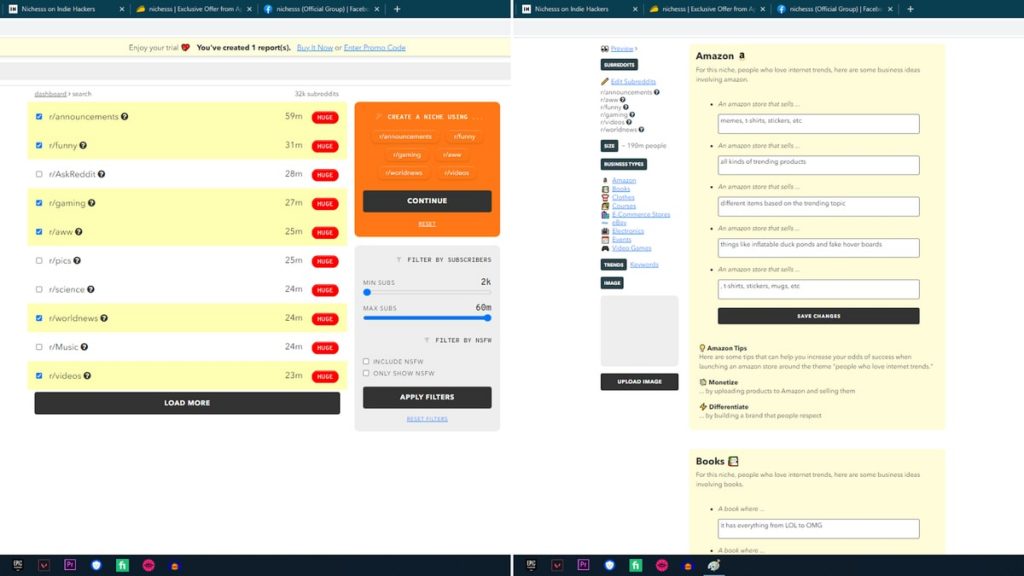 Nichesss allows you search over thousands of subreddits to find business opportunities and get inspired as most of the subreddits have a niche market.
Recently, there has been an increasing demand for AI-powered copywriting tools that can be used by businesses and freelancers alike. But, there are also a lot of doubts about their efficiency and performance. These doubts have led to the necessity for comparing the multiple benefits and limitations of such tools. Assessing the pros and cons will help you make a faster decision, and understand the intricacies more deeply.
Now let us a look at all the benefits that this tool brings to the table along with its limitations.
You can find profitable niche markets within your target audience with the click of a button. Click an additional button, and you'll get all the marketing materials for that niche.
You can achieve more with Nichesss since the content generated is indistinguishable from human-written content from the reader's perspective.
Nichesss automates the process of generating a marketing plan, an introduction of a blog post, an outline for a blog post, and more.
With Nichesss, you'll be able to start a new article that's filled with information and ideas to write about, all without having to do a lot.
The use of AI can help eliminate mundane, time-consuming tasks, freeing up time that you can use to focus on more important things.
Additionally, AI can eliminate errors since humans are more likely to make mistakes in repetitive tasks due to boredom, whereas using Nichess eliminates that risk.
Nichesss lets you post more, so you can get close to your target audience. Consistent content creation makes it easier to cover more topics and answer more questions.
Artificial intelligence is likely to have significant benefits for businesses in terms of identifying bottlenecks in content creation and fixing them.
Machine learning algorithms cannot act upon data in the same way as a human would.
AI-generated content lacks the magic touch that makes a blog post, article, or even a Facebook Ad engaging.
While the content written using AI Content writing tools convey most of the information that we require, it lacks a certain flair, and pizzazz, which are the things that are necessary to avoid a rather dry read.
Sometimes Nichesss content is plagiarized so you have to always run the generated content through a plagiarism checker tool to be sure.
UI can use some polish.
At this point, you probably know most of what there is to know about Nichesss. After all, we've already covered how it works and what makes it so useful, the pros and cons, and nichesss' greatest features. Nichesss is a powerful AI content writing tool that has improved ideas & content generation. The pros of using this tool far outweigh the cons.
When you compare nichesss to other automated article writers, it is clear that it is better.
Nichesss' Onboarding Process:
Nichesss is capable of generating a lot more than just your basic ideas and content; it can also write product descriptions, web content, blog outlines, opening lines, and a lot more. In the next several steps, you will be guided step-by-step through the process of creating your account and then you can use it to generate ideas and content for you. 
You also get to choose whether you want a free trial or want to go ahead with a paid subscription as the trial access only gives you a limited number of credits to use.
So let's begin then, to get started, you have to visit Nichesss' homepage which provides a very clean, minimal, and distraction-free interface.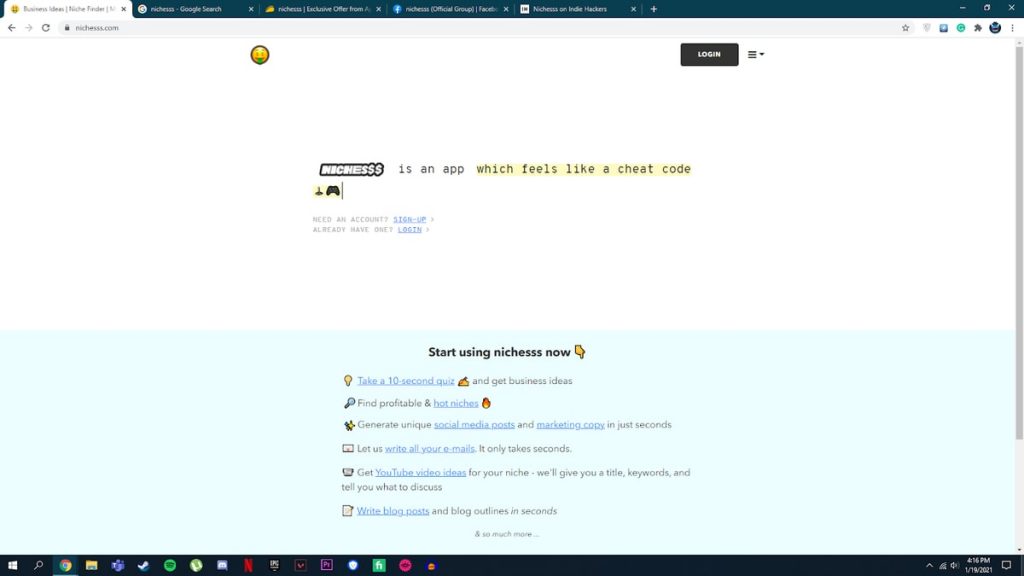 To create an account, you can click on SIGN-UP in the middle of the homepage, or you can scroll down, where you will find a similar button that will take you to the account creation page. The sign-up form is pretty straightforward, and all it requires for you to enter is an e-mail address and a password.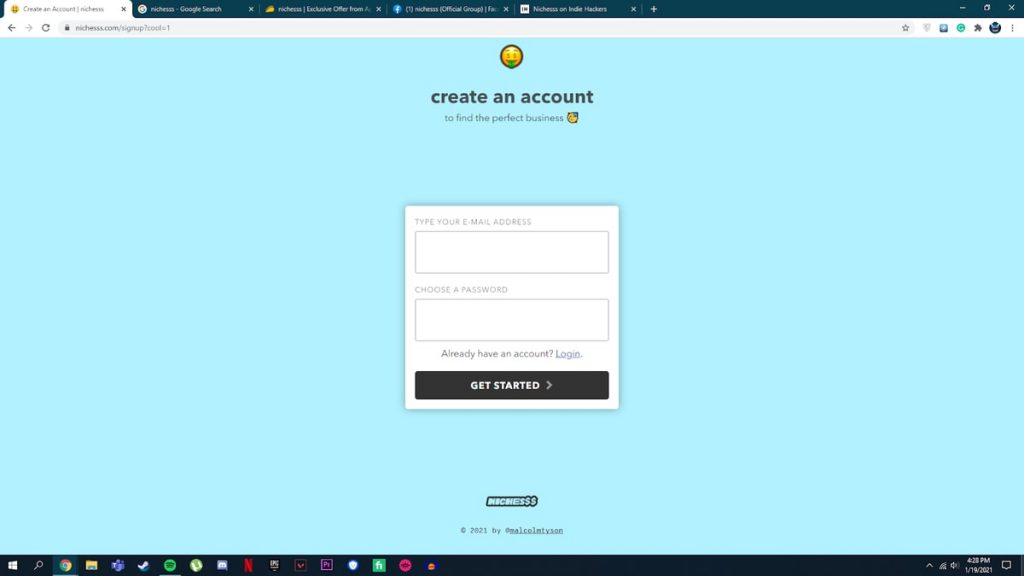 Once you've entered the email address and password, you can click on "Get Started", and following a simple captcha, you'll be taken to the dashboard. Nichesss' simple sign-up form exemplifies their dedication to convenience and ease-of-access since it cannot get any simpler than this.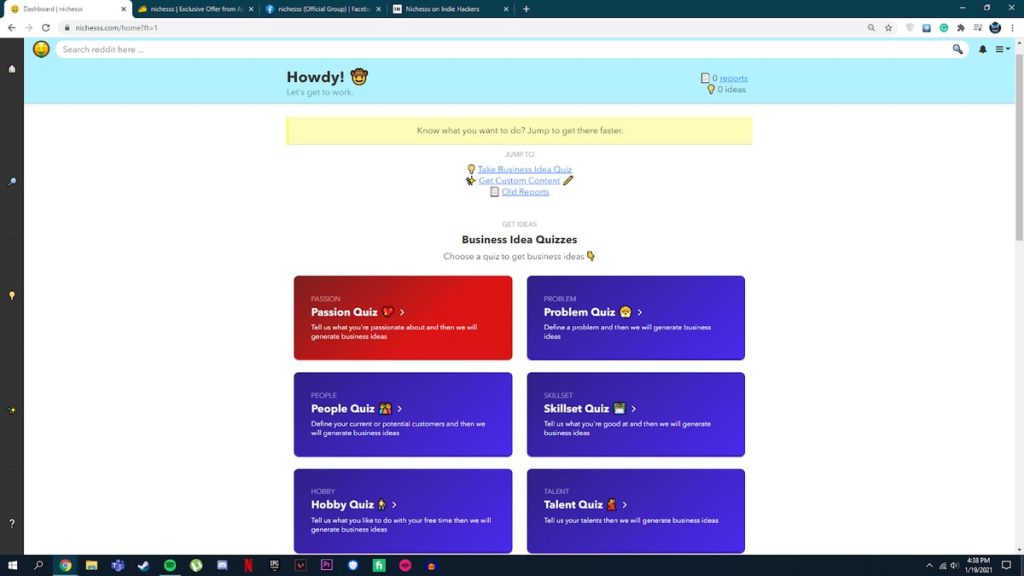 The dashboard has a very simple and almost basic feel to it and has been divided into three categories; Business Ideas, Custom Content, and Search & Reports. You can access all the tools here easily, simply by scrolling up and down and then clicking on the one that you want to use.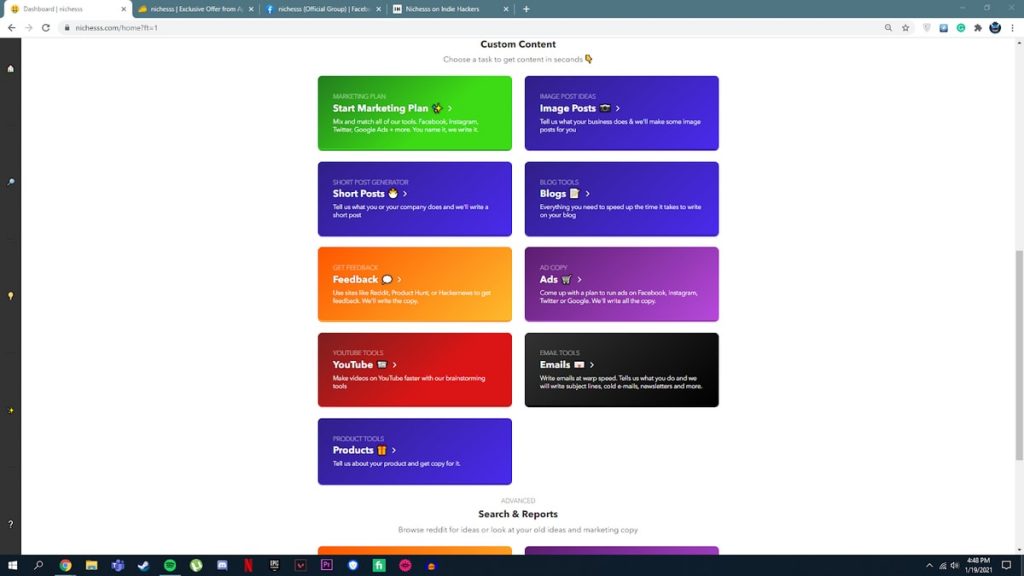 The interface is straight forward. This is its biggest advantage over the others as with other tools and software you have to take some time to familiarize yourself with the dashboard before you start using it, but the Nichesss you can save a lot of time and frustration down the road.
Nichesss' Pricing Structure:
The process of generating ideas and content for websites and blogs has become a lot easier with the inception of Nichesss. Several AI-powered Ideas and content generation tools are available in the market, all of which claim to be the best at writing content. However, these tools cost a fortune, and that is where Nichesss proves itself to be the best choice.
So, let's have a look at the pricing plans of Nichesss, and help you pick one for yourself. Nichesss has three different plans: Rookie, Intermediate, and Pro. If you're trying to figure out which plan is right for you, then take a look at the following table which shows a comparison between these different pricing plans and the features they offer.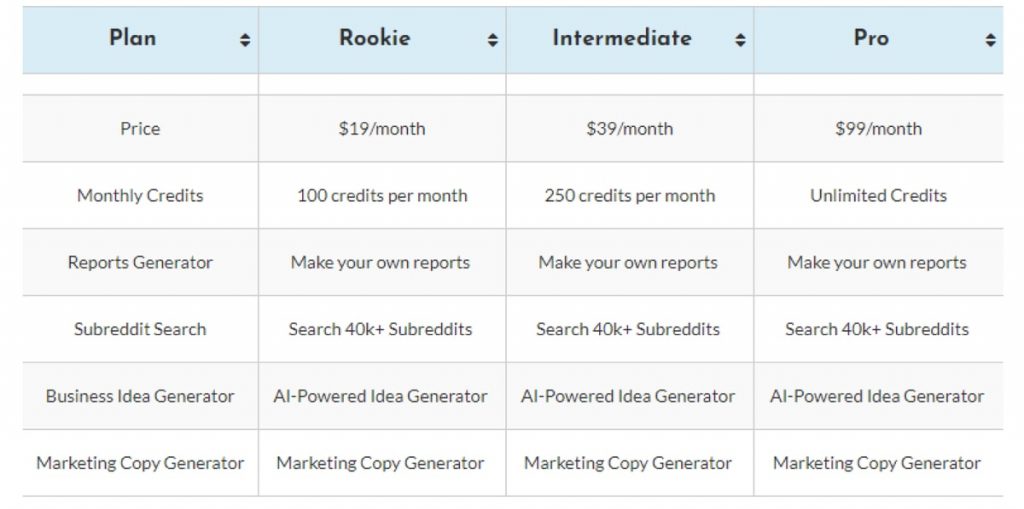 The Rookie plan offers the best value for your money, whether you're just starting with your business or you're a freelancer looking for an affordable solution. At only $19 per month, you get 100 credits which you can use to generate innovative ideas and content for you. 
The other plans, such as Intermediate and Pro, provide almost the same functionality, but with added credits for an additional cost. If your business is large or if you run an agency, or even if you just want to go crazy, you will get a far more sophisticated approach with these plans and their additional credits.
Nichesss Customer Service:
Having good customer support is very important for a business, especially for people who have never dealt with your product or service before. Another benefit is that it saves the company money, and keeps the customers happy. Nichesss' is a one man show at the moment and the creator is surprisingly available almost round the clock. 
To access the help center, you can click on the Help button which you can find by clicking on the drop-down menu in the header. The help center contains all the necessary documentation which can help you understand the basic dynamics of this tool. It gives you a complete overview of everything that Nichesss can perform.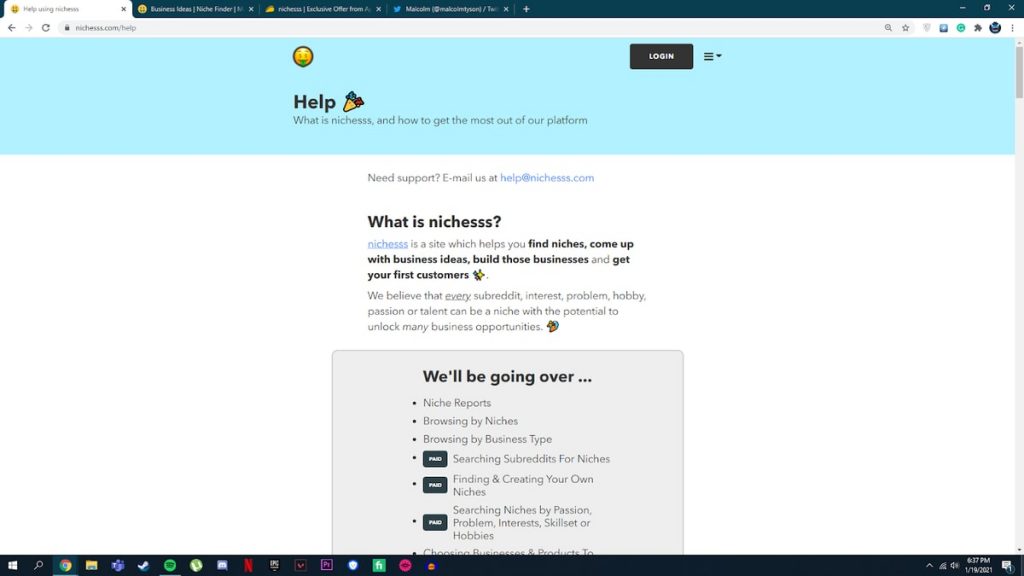 If you have any suggestions, complaints, or queries, you can send an email at help@nichesss.com to get a quick response. The owner has also made himself accessible through several other forums such as Twitter, and Facebook. 
You can find his Twitter handle at the bottom of the help center and you can tweet him any questions, thoughts, or concerns that you may have. Nichesss also has a very active Facebook group, where you can directly share your concerns and thoughts with the owner himself, and other customers who are using this tool.
We can conclude that Nichesss is one of the best tools for generating ideas and content for blogs, emails, and whatnot, with minimal effort and time. Nichesss offers great value in its price tag since it writes a lot of the content for you. You have to fill out a short questionnaire telling what you want, and it does the rest of the job for you.
But, Nichesss requires some getting used to because it takes a little time to figure out which fields to fill out to get the best content out of it.  Nichesss has a long way to go as the entire system needs a little tweaking to make sure that it produces great content every time.
By Syed Asif