Creating content that people want to read is a lot harder than it seems. So, what is it exactly that makes content captivating and worthwhile? What makes your audience come back for more? Below are a list of key components that will craft quality digital content.
It goes without saying- it's worth spending time brainstorming concepts that are important to your brand and the general conversation around your brand.
Brainstorming with others is a great way to share ideas you may not have thought of yourself too, just make sure to start with one general theme at a time though, as to not complicate conversations. After writing everyone's ideas down you could even start to merge them to come up with a completely unique idea.
Some people think inspiration can only come from books or songs but letting life inspire you will open your mind to new ideas. Inspiration can come from all sorts of places, the news, frustrations, films, online videos and so much more.
Opening your mind to fresh ideas teaches you to recognize topics based on what you enjoy, what you don't particularly like and what YOU find inspiring. This can lead to some amazing content.
Attention- Figure how to get the attention of all those distracted people who come to the web.
Attraction- Make your piece look appealing enough to want to check it out.
Adherence- Stay committed, don't give up when a problem arises.
A Team- Work as part of a team as mentioned above, the more minds the better!                   
All of these are critical components if you want your writing to really take off.
An idea map is essentially a visual representation of your thinking process. It's a simple to use tool for planning and organizing thoughts in a way that doesn't rely on traditional note-taking.
Begin with a topic that you believe needs to be explored more, connect various branches to other more specific concepts. Then use keywords to explain the relationships between each concept, add images and colour code it to give you visual help.
This way of note-taking really helps some people who would usually scribble ideas down and forget the reasons why. Below is a simple example of what your idea map could look like.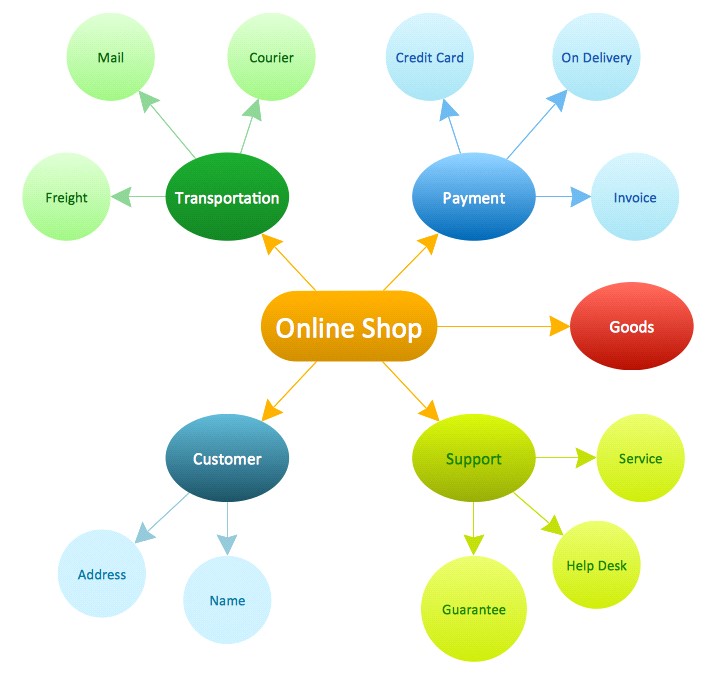 Credit- ConceptDraw Solutions
Headlines and Subheadings
The main thing which gets people to click on your piece is an attractive title. Ensure that your blog's headline or title is catchy enough to force the viewers to click on it. Use creativity, puns or even the shock factor to suck people in, but do not copy headings of others.
The blog content should contain an appealing starting paragraph that defines the significance of the topic. Later on, it should start explaining the concepts and information in various headings- these are called subheadings. Make sure each subheading is as attractive as the main headline and contains up to 5 words. Too long or too short subheadings do not look appealing. The number of subheadings will depend on the length of the blog.
Using these components will help you to create a thoughtful and well-designed path that will hopefully see audiences coming back for more!